Training Survey Questions
Evaluating Your Instruction With Training Survey Questions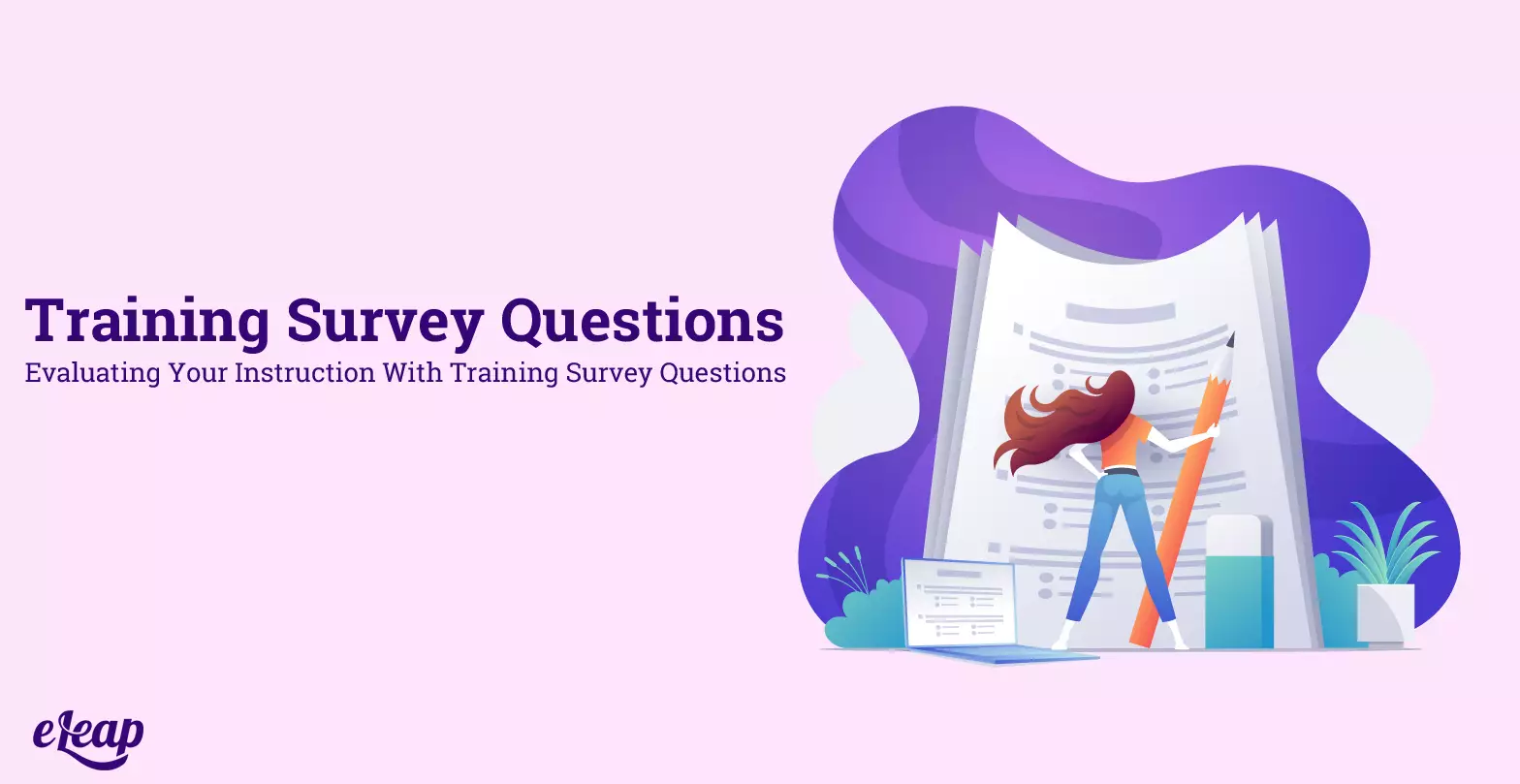 You might not know this but training survey questions are an underrated asset. How do you know if your learning and development strategy is aligned and functioning? How can you determine your return on investment for the overall eLearning as well as each course? How do you know how successful your course catalog is at providing your employees with the tools and learning that they need and want? Download 20 training survey questions to use in your next training.
Training survey questions post-coursework is key.  Just as you use online tests and quizzes to see how individuals are growing and retaining information, you also need to ensure your course is progressing in tandem. Training survey questions can help you determine where your business' learning is now and how it can be improved in the future. Many organizations rely on tools like the Kirkpatrick Model to assess training effectiveness.
Even the best eLearning courses need to be adapted and reworked as new business methods, techniques, and strategies emerge. Your learning and development should reflect the transformation of your company as well. One of the major reasons companies are finding success with online courses is because of their ability to quickly and easily be updated to reflect the needs of the employees.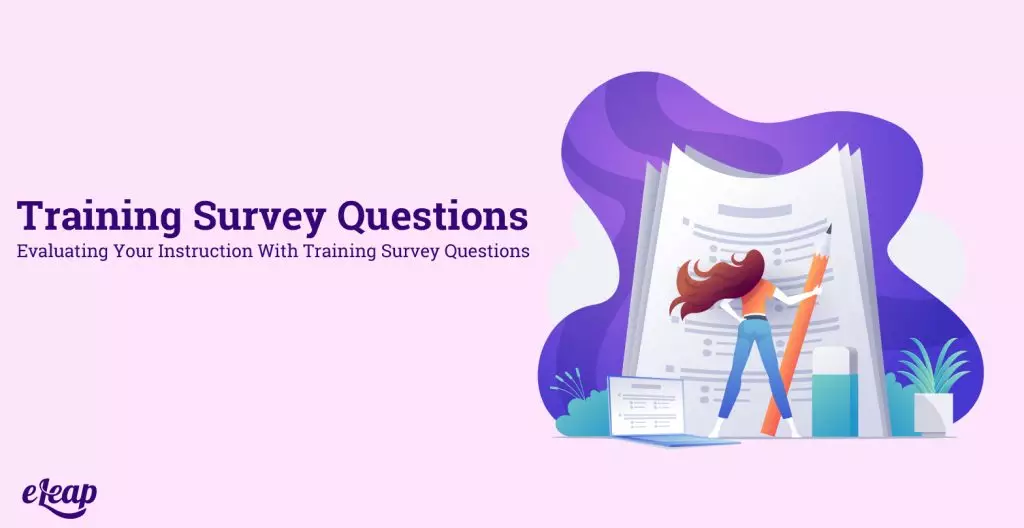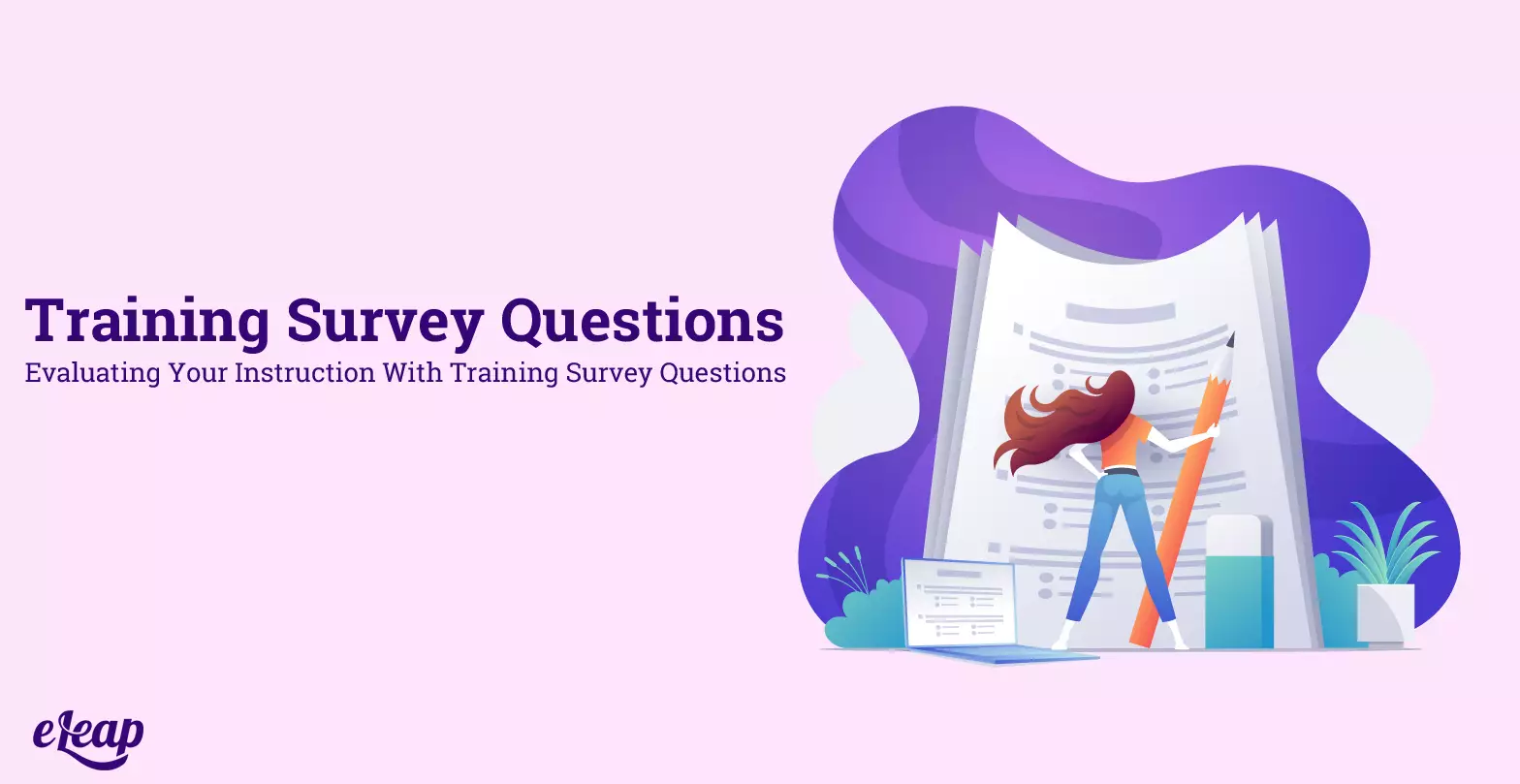 The best way to figure out what your employees require out of their learning and development is to ask them. Training survey questions ask your employees and students to rate the learning using a variety of queries.
Let's take a look at how to utilize these employee-response surveys to grow the success of your online trainings and overall learning and development strategy.
When Should You Administer Training Survey Questions?
If you survey your employees soon after they finish a course, it will be fresh in their mind and most accurate. You're not testing them for long-term retention; you are simply getting their honest feedback about the course. We usually recommend leaving a 24-hour window. Too soon, and they may be tired or overworked after completing the course. They also need time to reflect and retain those last bits of knowledge. However, too far out and they won't want to be bothered to take the survey.
However, some employers choose to do two sets of training survey questions: one immediately following the course and another a few months later after employees have been able to apply the knowledge they learned. Often, employees don't fully realize the strengths or deficiencies of a training course until they go to use it in person.
You may also choose to follow-up in person after the training. You can have a manager or HR representative have an informal conversation with the student to get feedback in his or her own words. (However, it's important to note that most students are more honest on paper, so you should never do an in-person survey by itself. This should be treated as a way to continue the conversation about learning and development, rather than a formal data collection.)
What Kind Of Training Survey Questions Should You Ask?
It's not always easy to figure out how to ask the questions in order to find the answers you need to grow the course. You don't want to overwhelm your employees with hundreds of questions, but you also want to ensure you have a thorough group of data to determine the strengths and weaknesses of a given course.
There are three primary types of questions you can ask: yes or no questions, scaled questions, or essay questions.
Yes or no questions are those that are easiest to answer, but don't provide HR with a lot of information. For example: "Would you recommend your peers take this course?"
Scaled questions are statements that ask for the student to rate their experience on a scale of 1-5 or 1-10. Using the same example as above, this would be altered as: "On a scale of 1-10, how likely would you be to recommend your peers take this course?"
Essay questions are those that ask the employee to write about their experience. This is great for in-depth data collecting, but it is the most time-consuming for both the employee to fill out and the HR department to sift through. Again with the same example: "Would you recommend your peers take this course? Why or why not?"
It's recommended to use a variety of all three types of questions in your surveys. Scaled questions are most common because they are the easiest way to gather data that can be plotted and analyzed. However, be sure to throw in a few essay questions; this is the best opportunity to hear directly from the employee's mouth what they thought of the course.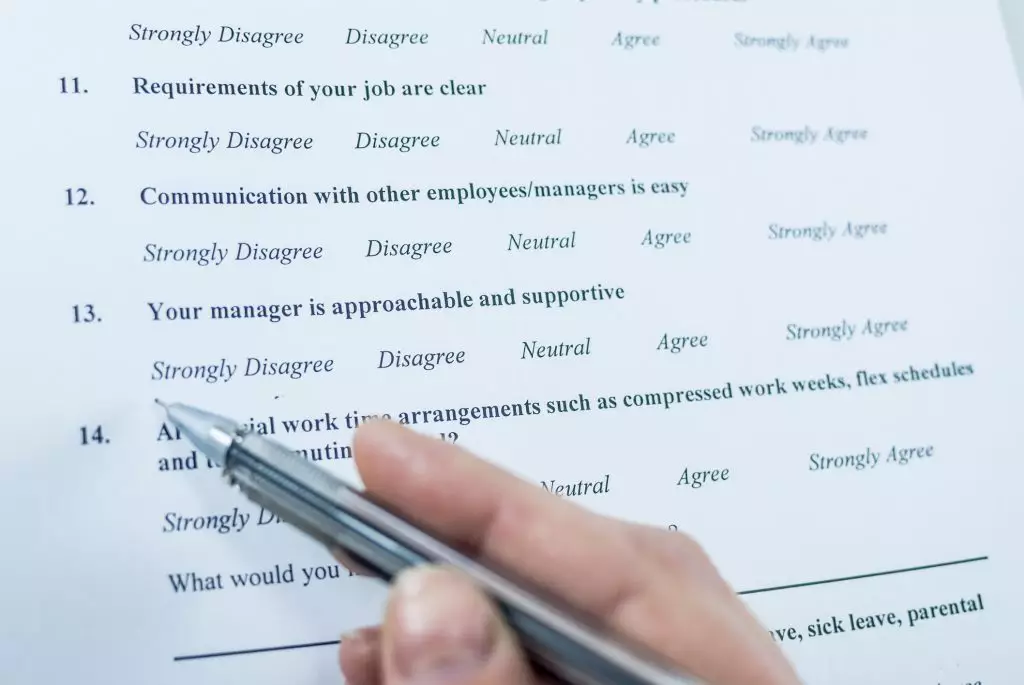 Which Training Survey Questions Should You Ask?
Below we have a list of potential training survey questions you could include in your survey. Be sure to choose those that are most relevant to not only the course but also the individuals taking the course. For example, there may be different objectives for the accounting department to take "Warehouse Safety" than the shipping department.
In this way, tailor your questions to the course, the department, and the information you need to know in order to get a full picture of the strength of your courses.
Note that these questions can all be re-stated to fit best with the type of question being asked, whether yes/no, scaled, or essay.
1. Would you recommend this course to your peers?
This is the most important question to ask on any and all training surveys, generally in a scaled format. Most retailers and restaurants use this question to get their "net promoter score," which basically tells them how well they are doing in comparison with their competitors. This question will basically tell you whether or not this course was worthy of recommendation and thus worthy of being taken overall. You can then ask "why or why not?" in essay format to get specific statements about what did or did not work in the course.
2. Would you pay for this course?
This is a similar question in that it tells you how worthy this course is—this time in monetary worth. Likely, your employees are getting these courses paid for through your company. However, asking if they would have paid for it helps to determine if it was truly worth the time and energy; it also helps to determine if the company should be paying for it.
3. Why did you take this exam?
This essay question simply gives you insight into the purpose of your L&D department in the eyes of your employees. If they respond, "my manager forced me to," you know that you need to begin to approach training in a new and more engaging way. If someone responds, "I believe that this course is relevant to the next step in my career path," then you better understand how your employees are using specific courses towards professional growth.
4. What other trainings would you like to see in the future?
This also gives you more insight into your L&D department. You know why they are taking courses—now what courses would they like to take that are currently not available to them? How can you make it available and accessible to your employees?
5. Other training survey questions to ask:
What did you enjoy most about the training?
What could have been improved?
Were the learning objectives clearly defined before the course began and throughout the length of the course?
Did you learn everything that was laid out in the learning objectives?
Did you feel this course had value?
Did you learn something new? What did you learn?
Was the course interactive?
Were you engaged with the material?
Did you feel you had the time and resources to appropriately complete the training?
Was the training well-organized and well-run?
Did the course move at a steady pace?
Was the information actionable? How relevant is it to your job? How will you use these learned skillsets?
How competent and prepared to you feel with regards to this knowledge?
What would you say the main purpose or point of the course was?
Training Survey Questions Bottom Line
After you've administered a survey, compare it with the results of the employee individually. Were the results and data consistent? Why or why not? Notice how your employees are responding to the courses in order to better your courses moving forward.
Your learning and development strategy is not set in stone. It changes with the needs of the business, the needs of the employees, and the implementation of new technologies and practices. The right training survey questions will help you stay up to date and get in the minds of your employees—those who use, benefit from, and progress training and development within the business.