How To Make Your LMS More Accessible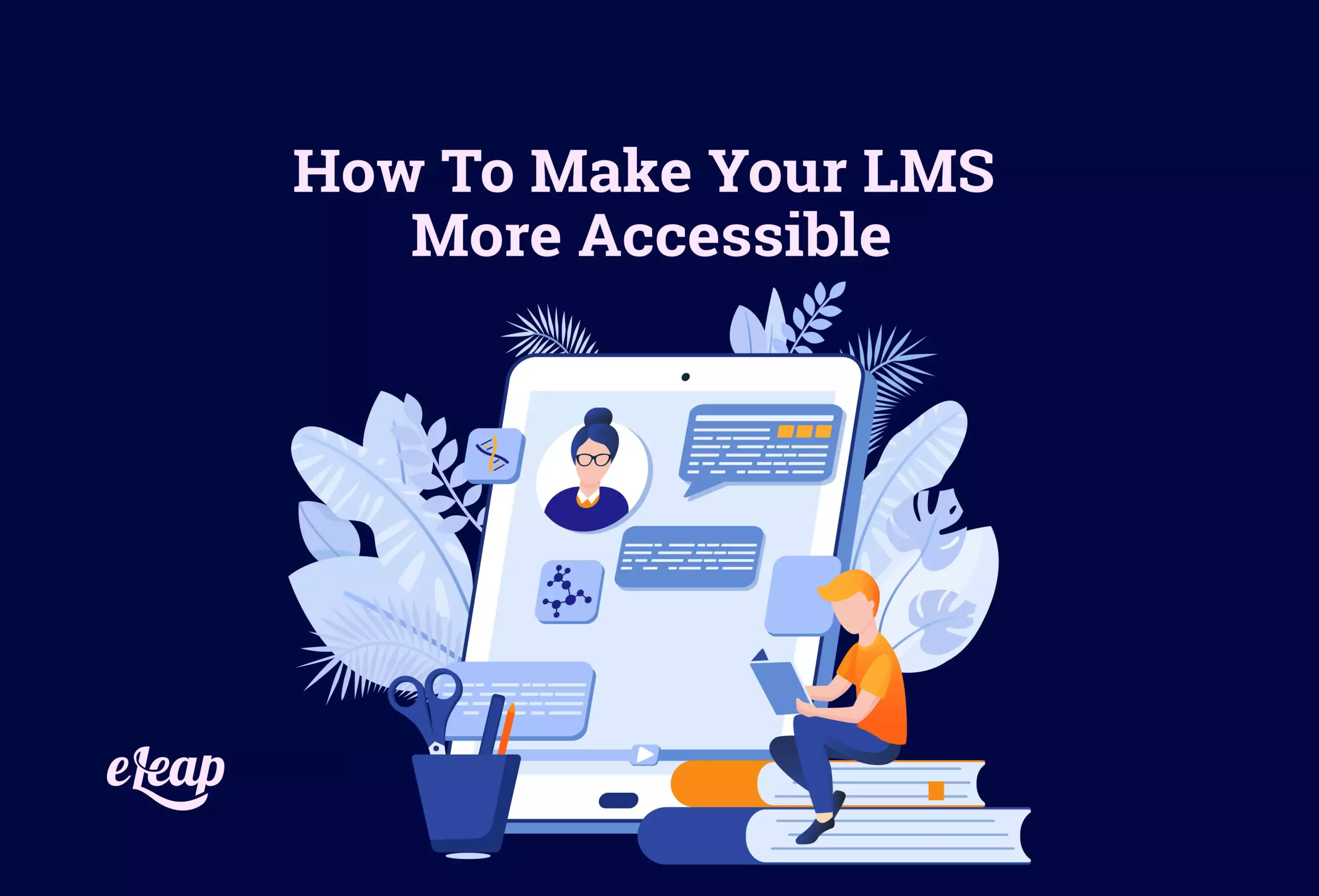 In a previous blog post, we discussed the importance of accessibility, and why organizations should make sure they adapt their eLearning platforms and content to be as accessible as possible to all users. Lack of accessibility isn't only considered discriminatory in the U.S., but it also puts your learners and your organization at a significant disadvantage. Disabled employees who are limited in the training materials they can access due to failure to provide proper accessibility will be at a disadvantage.
This will often mean they're unable to perform their roles or responsibilities to the level of other employees. Not only is this hugely unfair for the disabled individual themselves, but it prevents organizations from benefitting from the full potential that a disabled employee has to give. So, accessibility is critically important, that much is clear, but how exactly do you make sure your learning management system is fully accessible? Here, we will go over some tips for ensuring exactly that.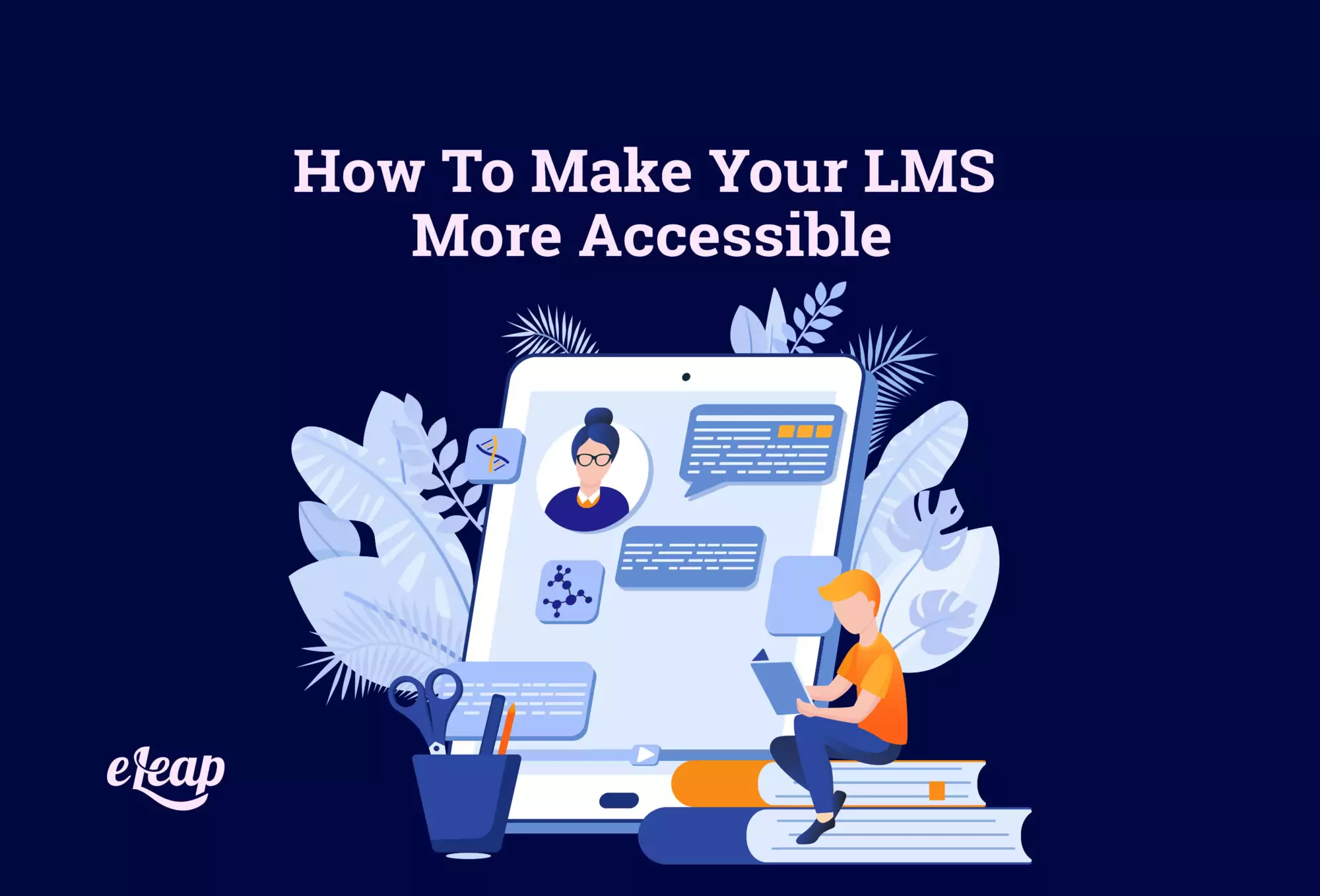 Why Your LMS Should Be Accessible
More Learners Have Disabilities Than People Realize
According to the Center for Disease Control, 20% of Americans have at least one form of disability. Hearing, vision, cognitive, speech, learning, or neurological disabilities are all included in this statistic. Proper inclusion relies heavily on the accessibility of your learning management system. Those with visual impairments, for instance, will require a screen reader to understand the content. To enlarge texts and images, the individual might also require a screen magnifier. If these accessible features aren't provided, then the visually impaired are being excluded from the learning experience.
Accessibility Benefits Everyone
People usually think of accessibility as only being beneficial for those with disabilities. But in actuality, accessible learning content benefits everyone by making it easier to interact, perceive, comprehend, navigate, and contribute to your LMS. In addition to people with disabilities, people with illnesses, old age, injuries, and old computers or slow internet connections can benefit from accessibility.
It's Required by the Law
Recently, modifications have been made to universal design concepts for workplaces to ensure that disabled workers are comfortable and can participate fully in their jobs and work environment. Such modifications include accessibility modifications that we're all used to seeing these days, such as disabled parking, wheelchair ramps, and braille signs.
What most people don't realize is that, as technology has advanced and become more ubiquitous, ADA laws also cover the accessibility of web content, software, hardware, and technology. Therefore, eLearning platforms must be designed so that everyone can access them.
How to Make eLearning Content Accessible
The good news is that a professional, quality LMS vendor will know how to make your platform accessible and will take the necessary steps to do so. Here are some principles that must be followed by designers and content creators to make sure your organization's learning management system is accessible to everyone.
Structure, Organize, and Make Your Content Clear
How your content is displayed on the web versus how your HTML is structured varies greatly. Some accessible features, specifically screen readers, require HTML to function properly. For any designer or content creator, understanding HTML is a plus. Your learning management system should feature good HTML to provide a better learning experience for screen reader users. Here are some additional methods and features that can help ensure screen readers work seamlessly:
H1-H4 headings are identified in terms of H1, H2, and H3.
As opposed to highlighting text, bold lettering should be used to convey the importance of something.
Clear, numbered bullets for lists should be used wherever possible.
Tables should only be used for presenting data, not for styling content.
Content that is organized and structured with HTML instead of being visually styled is often clearer and more recognizable for people with visual and learning disabilities. For example, placing light and dark elements appropriately between visual elements to increase contrast, or distinguishing content without color so that color-blind users don't have trouble comprehending the content.
Present Content in Different Ways
This can be accomplished by presenting a text alternative to non-text content. For example:
Captions should be provided for videos.
Images should be described using alt tags.
Labeling form inputs.
Consistency in Content and Navigation
Any user who utilizes a system for the first time will require a learning curve to get used to the platform. However, making sure that your content and navigation features are structured and organized properly can significantly decrease that learning curve. Make sure to offer welcome courses or welcome tours for new users that are accessible to disabled learners. In many cases, those who require accessibility features to use an LMS aren't taught how to do so, they have to figure it out for themselves. This can make a learner frustrated with the system and can inhibit their ability to access the content or use the platform. It's also helpful to ask for feedback on your LMS from learners with disabilities. It's difficult for non-disabled users to determine how well an LMS works from a disabled person's perspective, so feedback is critical to ensure the system is performing well for everyone.
These days, failing to provide an accessible learning management system that works efficiently for all learners is a huge failure on the part of an organization. Not only is it illegal to not provide your disabled learners with the same access to learning as others, but it's also hugely unfair and puts your team and organization at a disadvantage. Within an organization, if disabled employees are unable to easily access materials and content, they will not be able to learn what they need to perform their jobs to a high standard. Remember, accessibility isn't just tailored for disabled learners, it's also massively beneficial in improving the user experience for everyone. Overall, an accessible LMS improves organizations' inclusivity and is a win all around.