Factors to Consider Prior to Switching to a New Learning Management System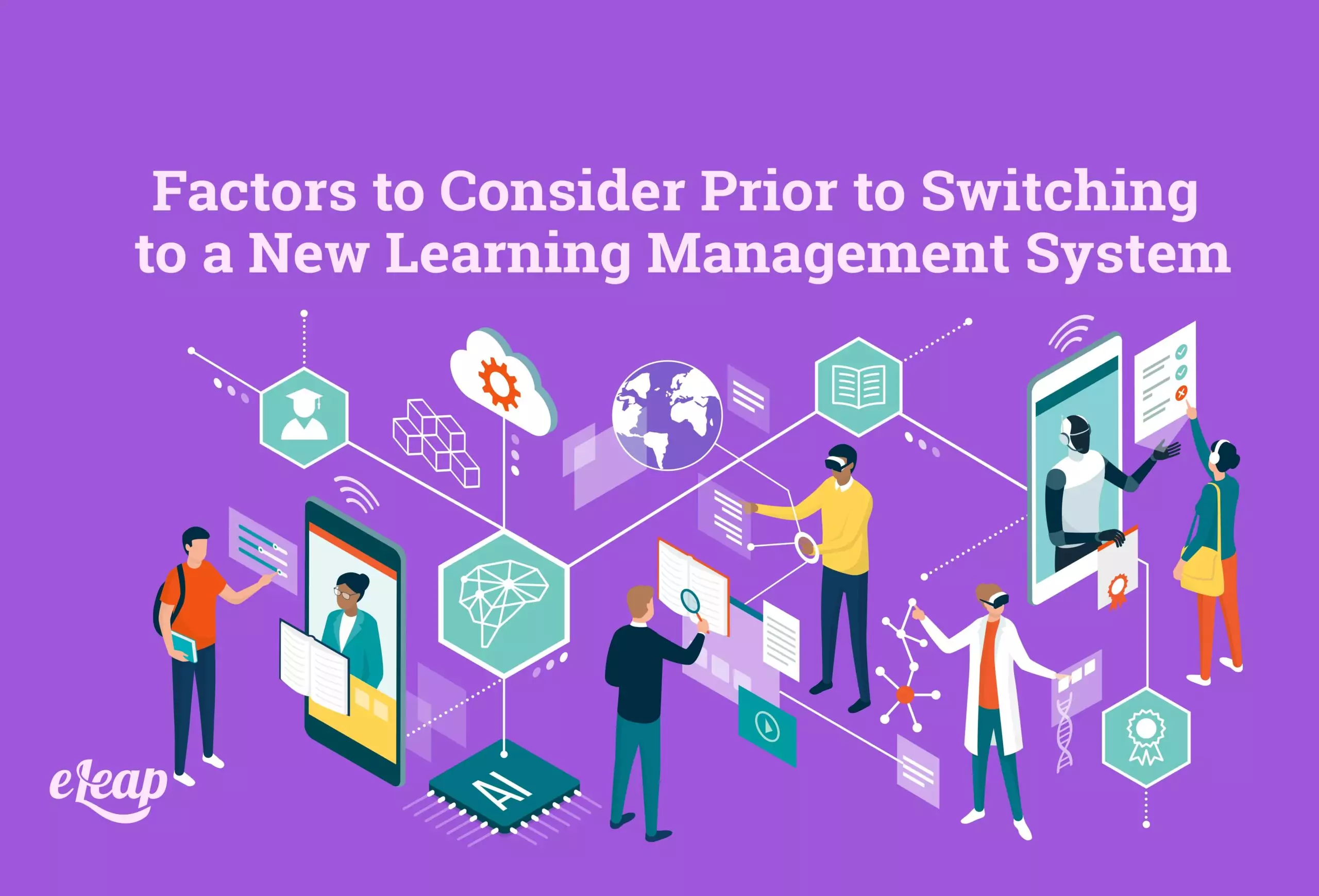 There are a lot of things to consider if you are in the market for a new learning management system (LMS). Chances are, if you're reading this, you have already been using an LMS for a while now, but it doesn't meet all of your needs. You may be looking for a new LMS that doesn't have as many challenges for yourself and your team. While this can be an excellent idea in some situations, you should be sure you consider all the facts. This is the best way to ensure the switch offers an improvement that everyone can benefit from. A 15-minute free consultation and learn how to successfully implement a new learning management system.
Switching to a new LMS isn't quite as simple when you consider the time that needs to be invested into learning the system and then making sure all users are comfortable with using it. In addition, the process involves migrating teams and content to the new software, as well as letting all learners know about the change.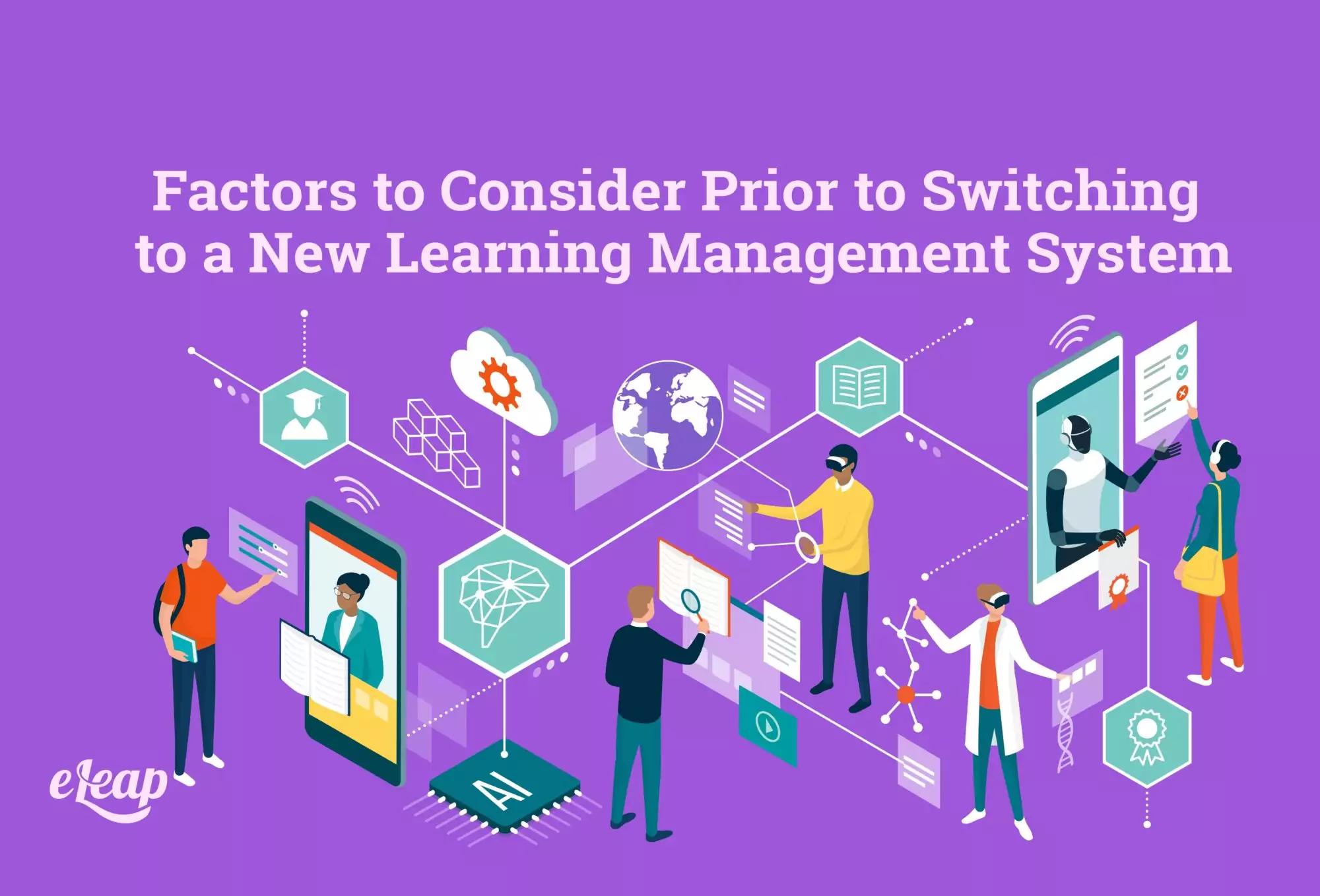 Determine Problem Areas Associated with the Current LMS
Those who are thinking of switching to a new LMS will have an idea of why they are doing it. However, you should think about what each of those reasons is. It might also be an excellent idea to write down the reasons that you feel you need to switch. Communicate with all sorts of users, from managers to learners and content creators, so you have all the information you need. Take the time to nail down all of the current problem areas, so you choose new software that doesn't have the same issues.
After you have a full idea of why the switch is needed and what features will combine to create a more successful product, you'll find that choosing a new LMS is simple. You know what you want to achieve and can choose features that align with that.
Map Out and Compare Features
Once you have determined that a change is needed and identified pain points with the current LMS, it's time to look at it in another way. Consider the software you use today and all the features it includes that you do not want to go without. While you go through this process, you can also determine which features you rarely or never use that you're okay with going without. This gives you a basis for comparison.
When comparing against other LMS options, don't immediately drop an option because it doesn't have a feature. It could be implemented differently or come with another workaround.
Look at Features for User Engagement
Anyone who creates learning courses online appreciates when their content is used, and people engage with it. However, in an increasingly time-crunched world, it can be a serious challenge to get the workforce to spend time on training. Some good options for improving engagement levels are short learning modules, email courses, daily quizzes, and similar content. This ensures that learners get course content delivered to them even if they forget to visit the website on their own.
Variety of Content Types
Since you're planning to switch to a new LMS, this could be an excellent time to look at new content types that your current LMS may not offer. With content creation being a long and laborious process, many LMSs offer a way to pull existing content, such as blog posts or YouTube videos, into the software. As an example, eLeaP offers the option of uploading files that are PowerPoints, PDFs, audio, pictures, video, SCORM, Microsoft Office, and more. When you select an LMS, looking for variety so you know you can use it for multiple applications.
Ability to Migrate Users and Content
One of the most critical areas for this transition is migration. Most people will be migrating users, enrollments, and content to the new LMS. Some businesses will want to be able to migrate things like user records and progress, although downloading reports from the original LMS can avoid this need. Different LMSs have a variety of import and export tools, so consider how hard is going to be. It may be an entirely manual process, an automatic one, or something in between the two.
Considerations About Time and Cost
Assuming you have more than a few pieces of content and a handful of users, switching to a new LMS is not always going to be quick to handle. You need to be sure that the transition process is properly mapped out and all expectations of stakeholders are met regarding the change. Ensure the transition is planned out from beginning to end.
On the subject of cost, be aware that it goes beyond initial infrastructure and licensing costs. Managing content, creating reports, and teaching users will also have an impact on the cost of the switch. Select an LMS that makes all of these things more efficient than the LMS you already use.
Upgrades to Technology
If you have already been using your current LMS for a long time, it's quite possible that the technology that pins it together hasn't been upgraded. Technology is constantly being updated and improved to create better learning experiences. With an LMS like eLeaP, you get system integration with other software, powerful customization, the ability to create custom courses, and more. These things can be useful and may be worth looking for as you choose the right LMS to replace the one your organization is currently using.
Not All Features Matter
Remember that as you peruse the various LMSs available today that they have a huge number of features. Sometimes it can be difficult to see past that since it can become overwhelming. Remember that only around a quarter of the features in any LMS are going to be used by about three-quarters of your learners and content creators. The best thing you can do is to identify the features that are the most important and then select an LMS that does those things especially well. This makes it easier to choose the right LMS without getting bogged down in details.