21 CFR Part 11 Compliance for SaaS Cloud Applications
Know the difference: CFR Part 11 vs EU Annex 11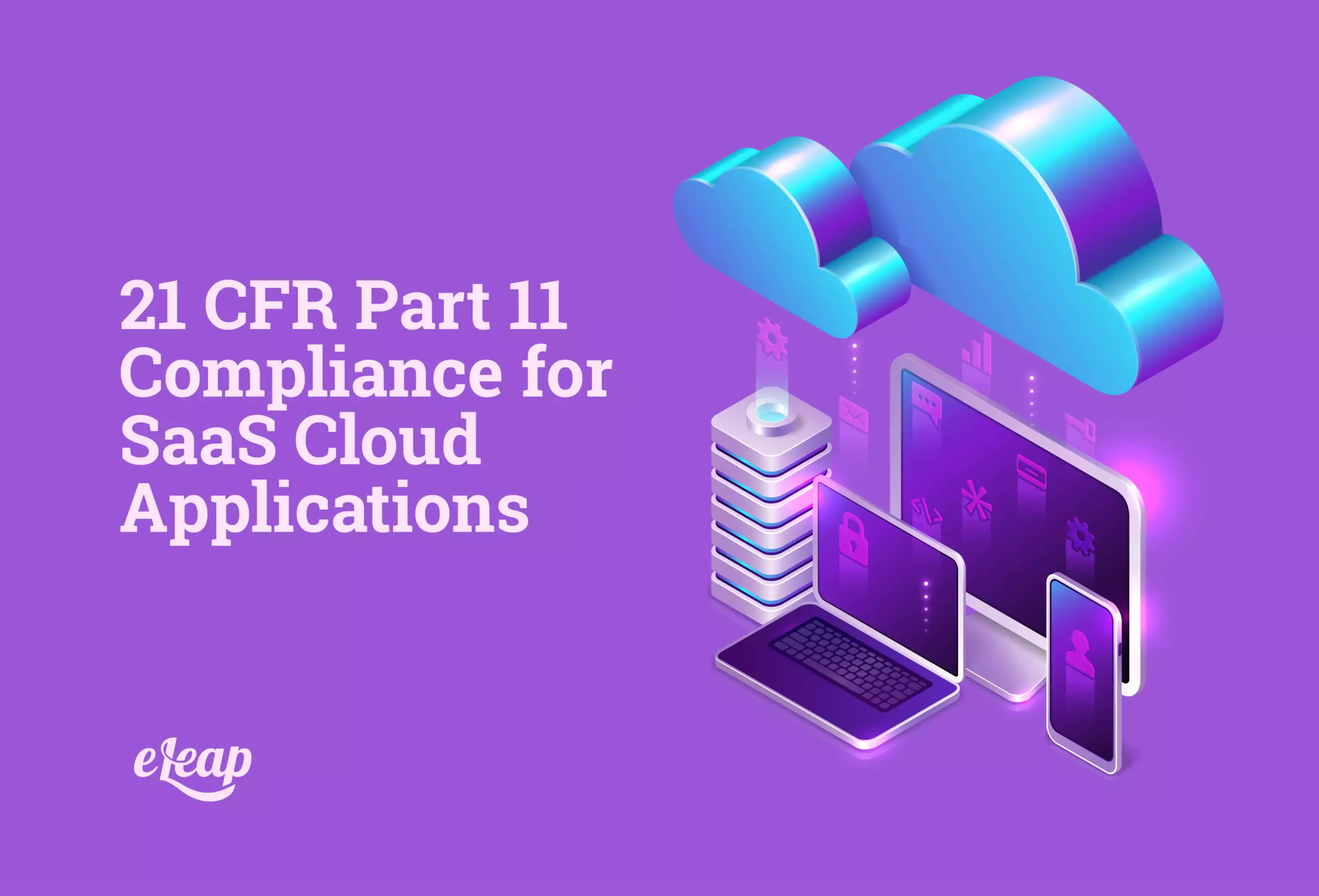 Title 21 CFR Part 11 is a statute that handles the regulatory compliance of electronic records and signatures, including the management of them and setting the guidelines for how they can be stored, accessed, and created in the digital space. For each type of software or platform, there is a different set of compliance guidelines that need to be followed, including SaaS cloud-based applications. 21 CFR Part 11 compliance for SaaS cloud applications require that these systems are validated.
It's been projected that the market for global life science software will grow by as much as $2.55 billion through 2024, and a large part of that will be in the form of SaaS-based solutions. As such, understanding Title 21 CFR compliance for SaaS and cloud applications is crucial to all life sciences organizations. Get a free sandbox account to see how eLeaP's CFR Part 11 compliant system works.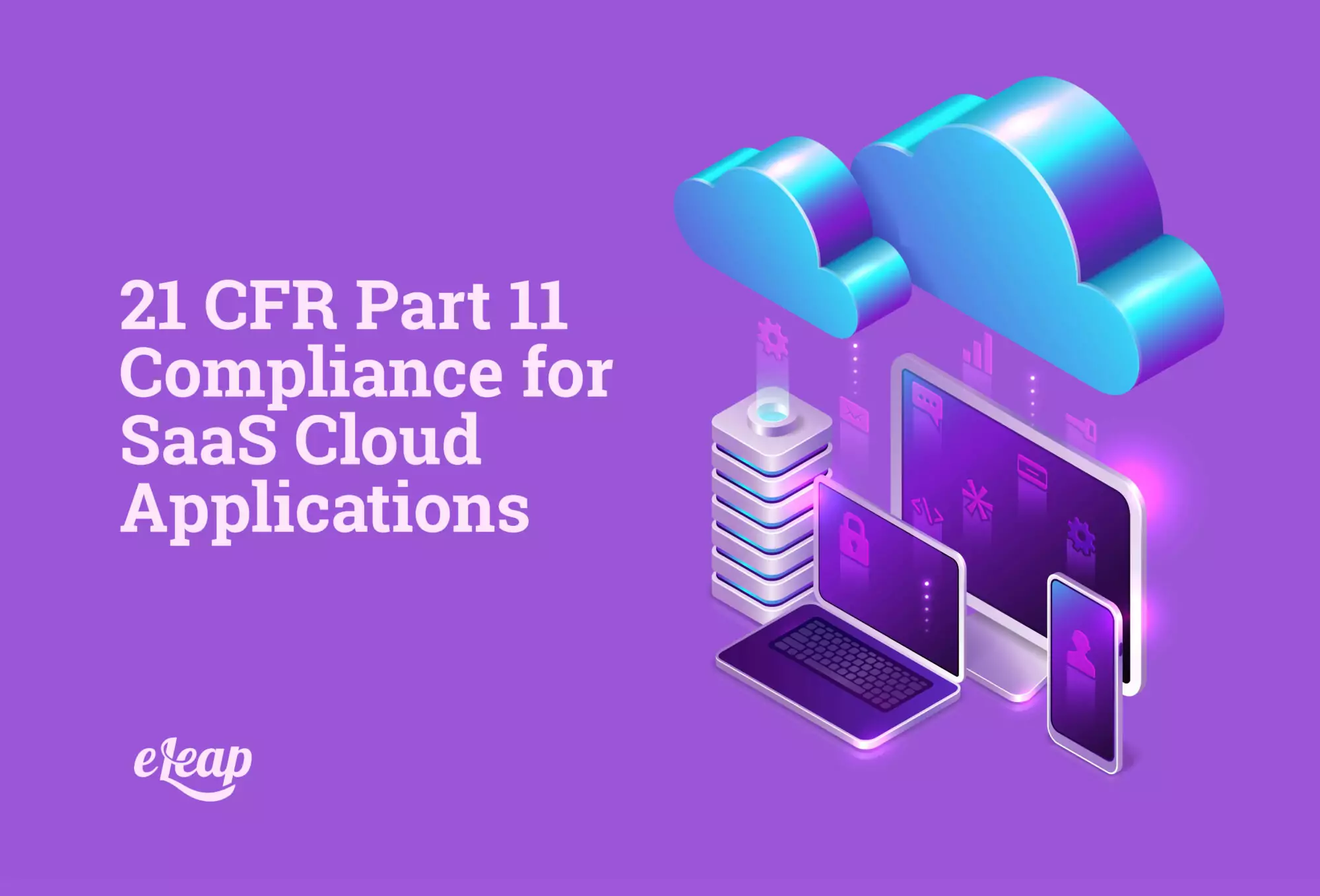 What is SaaS?
Software as a Service is a term used to describe the method of delivering applications via the Internet. SaaS cloud applications are also known as:
Web-based applications/software
On-demand software
Hosted software
Most modern SaaS platforms and brands are hosted in the cloud, providing a whole new space for storage that people have never seen before. However, there are security concerns when it comes to working in the cloud, especially as it relates to the storage of electronic records for those who have little control over the hosting hardware or the software when checking for regulatory compliance.
SaaS solutions are designed to improve efficiency and reduce deployment costs, and organizations will appreciate the relevance and feasibility of cloud computing as they are rolled out into the market. Systems like the modern Learning Management System (LMS) can benefit greatly from SaaS deployment.
The Conflict of Regulatory Compliance
While the market for SaaS is bright, the problem is in the service delivery: Most providers of SaaS solutions outsource to help reduce their expenses. This can expose life sciences organizations and pharmaceutical companies to some less-than-savory sides of a market that is rapidly exploding. Unfortunately, most regulations, like Title 21 CFR Part 11, are for the provider.
There is far less regulation of vendors that ensures safeguards are in place for data and electronic signatures. The onus here falls on the life sciences organization itself to ensure system validation and infrastructure qualification of the tools and systems that they use. After all, it is the regulated company that will have to produce audit records and proof of compliance upon request.
What is Title 21 CFR Part 11?
CFR means "Code of Federal Regulation," so the Title 21 CFR Part 11 guideline is a code that outlines the best practices that need to be followed for electronic records and electronic signatures, including account passwords and access issues, compliance and validation of systems and software tools, and more. This statute was put into place all the way back in 1997, but today it remains one of the most important parts of business for organizations like yours that depend on the secure, easy-to-access nature of digital records and working in the cloud.
This guideline is deliberately designed to be more open-ended so that organizations can choose the type of compliance tools or systems that work best for their needs. It does, however, outline the basis of compliance and what is required to be considered in validating systems, software, and tools.
Inspections and Validation
The FDA is responsible for performing inspections related to Part 11 and GxP, while the EMAS has published an updated version of Annex 11 that expands on Part 11 and ensures that companies within the life sciences industries are updating their systems to maintain compliance. The requirements, as well as the inspection and validation process, are slightly different for local software as compared to Saas and cloud-based applications.
Almost every computerized system in the laboratory, clinical, and manufacturing settings for life sciences companies needs to be validated, many professionals suggest taking a risk-based approach to system validation. Reviewing recent inspection trends can provide insights into how to streamline the process and determine how
The Learning Management System: A Cloud Solution for the Ages
Today, people are consistently looking for faster, better, more effective ways to handle things like training and employee education. With a modern Learning Management System, or LMS, brands no longer have to invest in heavy in-house software or even specialty hardware, and they can access everything from the cloud on any device and get the training that they need. The modern LMS can be considered one of the most common SaaS applications tools for 21 CFR Part 11 compliance today.
Validating your LMS requires understanding the compliance guidelines set forth by CFR Part 11. You will need to check to see how your hardware and software are affected and what you can do to guarantee the integrity of your LMS and the rest of your electronic records and tools. Even if you aren't sure whether you fall under the FDA's governance, you need to consider compliance with this code as part of your operations anyway. It's not just for compliance—it's for security and for everyone's peace of mind.
When you want to leave compliance to the pros and trust in the systems that you use, consider a compliant solution like eLeaP that can deliver powerful LMS solutions for your life sciences organization. At eLeaP, compliance comes standard. Call us today for a custom solution.
The Bottom Line
According to Title 21 CFR compliance guidelines, SaaS cloud LMS applications qualify as electronic records systems because it provides access to stored information regarding employees and their training. Of course, that isn't the only part of the puzzle. There is no single "compliant" software or hardware solution here – the two have to work together to create the compliance with Part 11 that the modern business needs. It's best to stick with cloud solutions that can stand up to the FDA compliance guidelines, including a cloud-based LMS that will deliver the compliant educational resources that your team needs.
The primary concern with sharing data and regulatory information in the digital space is security – as more SaaS solutions come to market, the responsibility for checking compliance will always fall on the part of the organization, so choose your solutions carefully.