The High Cost of Noncompliance with OSHA Safety Requirements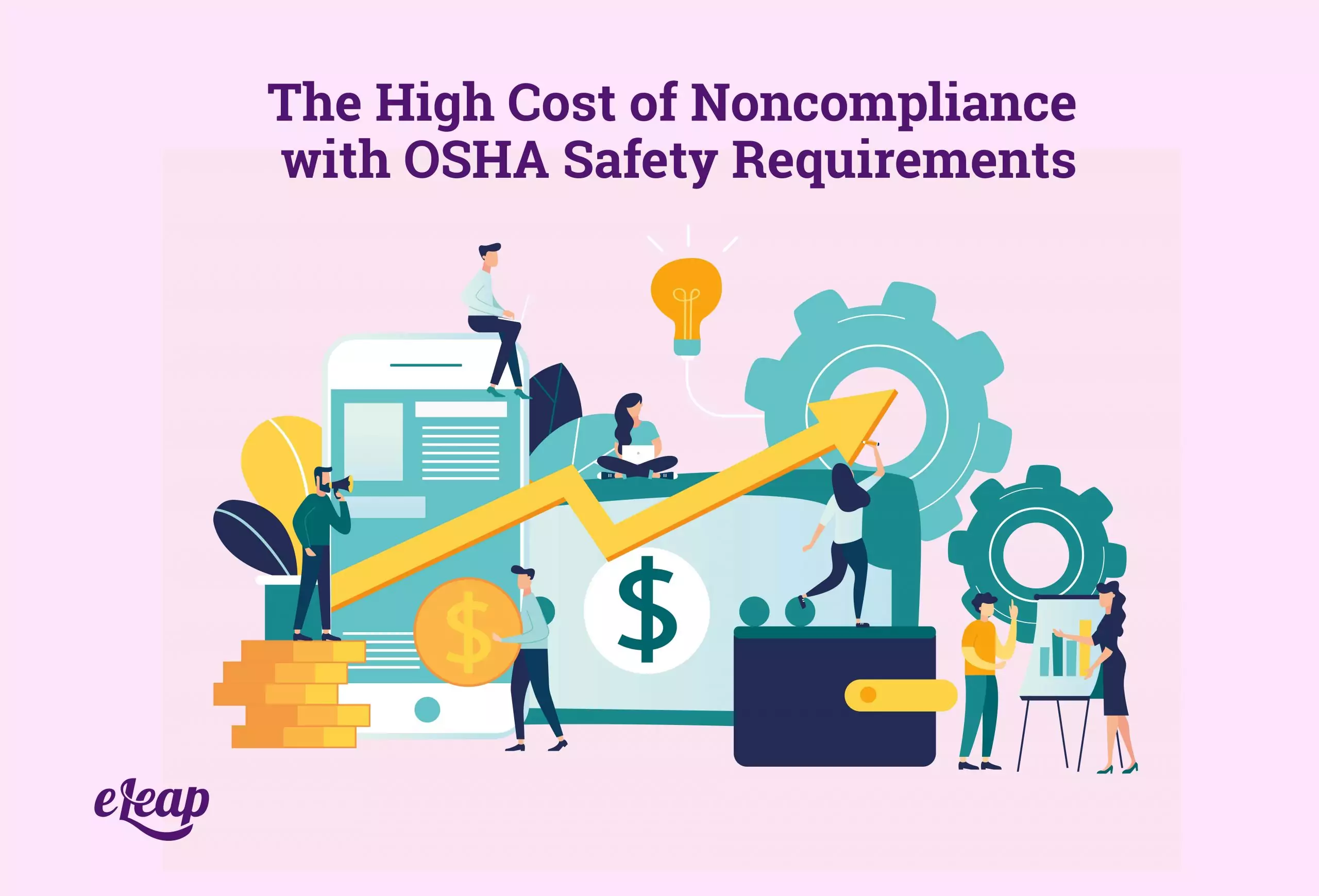 Noncompliance with OSHA standards can lead an organization to serious consequences, including serious financial penalties. However, there are other ramifications to noncompliance, as well. We will explore what you need to know in this article.
Safety and health regulations are in place to protect American workers on the job. Any workplace can hold hazards, both visible and invisible. The Occupational Safety and Health Administration, or OSHA, is responsible for setting and enforcing related requirements.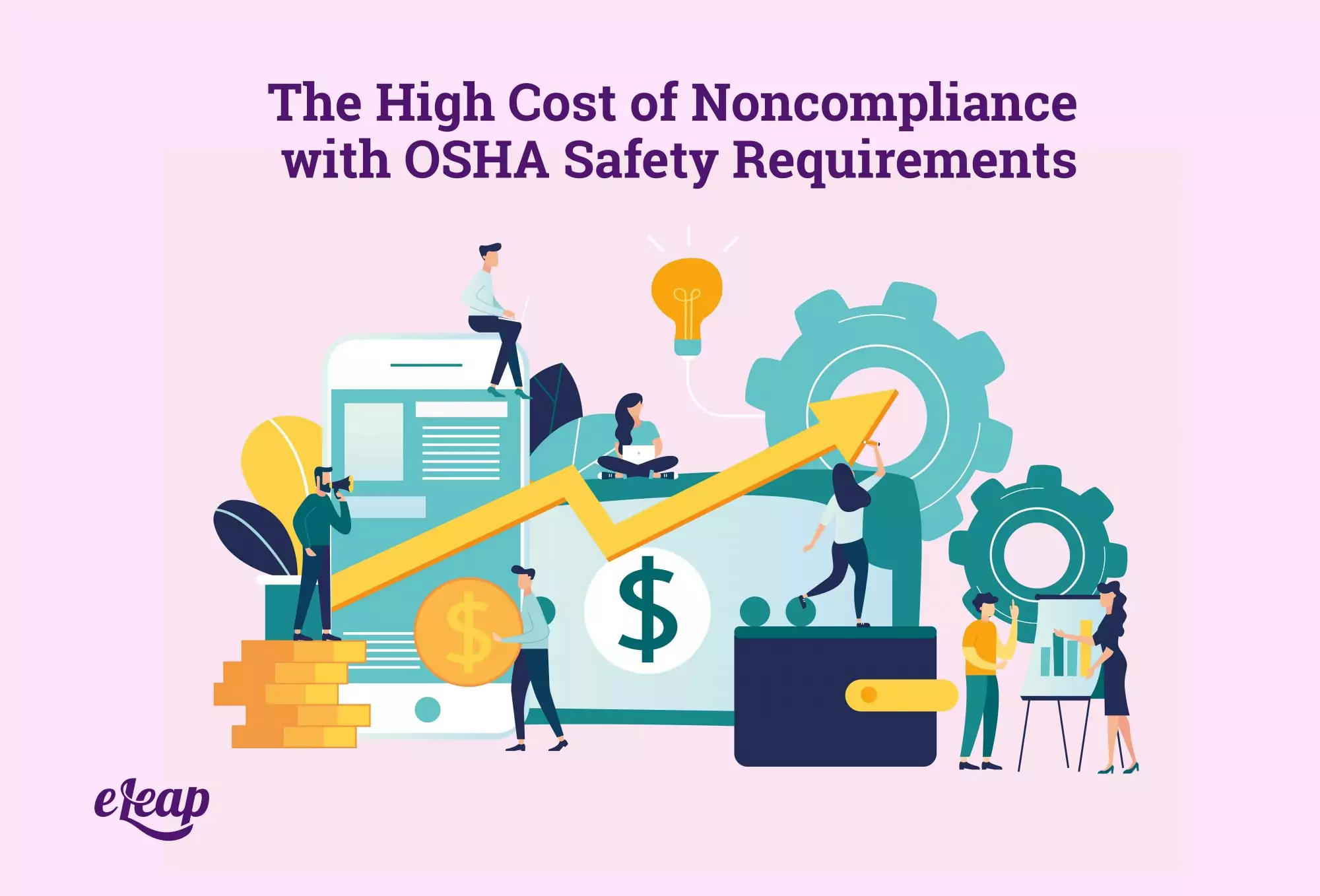 The Rising Cost of Noncompliance
For many years, OSHA did not adjust the organization's penalty structure. The result? Penalties that did not keep pace with inflation, meaning that even serious fines were little more than a slap on the wrist for organizations with deep pockets. However, in 2016, the organization modernized its fee structure. Today, non-compliant organizations face serious financial challenges. OSHA published the following chart in a 2021 memo:
Table 1: Maximum and Minimum Amounts for Civil Penalties
Table 1: Maximum and Minimum Amounts for Civil Penalties
Type of Violation
Penalty Minimum
Penalty Maximum
Serious
[$975] per violation
$13,653 per violation
Other-Than-Serious
$0 per violation
$13,653 per violation
Willful or Repeated
[$9,753*] per violation
$136,532 per violation
Posting Requirements
$0 per violation
$13,653 per violation
Failure to Abate
N/A
$13,653 per day unabated beyond the abatement date [generally limited to 30 days maximum]
As you can see, the costs of even a minor violation can be quite severe. So, it is important to note that organizations face more than OSHA-related financial penalties. Other costs your business may face include the following:
Worker's compensation payments
Increased insurance premiums
Legal fees incurred due to employee or employee family lawsuits
For instance, consider the fate of British Petroleum in the wake of the Deepwater Horizon accident in the Gulf of Mexico in 2010. The organization was ordered to pay over $13 billion in settlements, claims, and advances, not counting the immense costs leveraged by federal and state governments.
However, it is also important to consider non-financial costs entailed by noncompliance and resulting accidents and injuries. These are to the company's reputation – can you put a price tag on the value of your brand or the worth of customer opinion? Damage to a business's reputation can lead to an incredibly wide range of problems, including the following:
Customers defecting to competitors
Partners and vendors refusing to do business with the organization
Dwindling profits as customers shop elsewhere
Forced layoffs due to a lack of profitability
Eventual bankruptcy or even outright business failure
However, It can take decades to rehabilitate a business's reputation. Can your organization withstand these immense costs? Even the largest companies are not proof against this type of damage. Click here to learn more.
What Is the Solution?
The only way to avoid noncompliance-related penalties and fees, as well as potential damage to your business's reputation, is to comply with OSHA safety requirements. However, it is not as simple as it might seem. Understanding OSHA regulations can be challenging in the first place, and ensuring that your organization is fully compliant requires time, dedication, the right strategy, also, other components.
Identify Safety Issues
The first thing you must do is identify the safety issues within your organization. All businesses have them, whether you run a construction company or operate a package delivery service. Risks can run the gamut from potential accidents on the road to slip and fall accidents, and even falls from ladders and scaffolding.
Identifying safety issues within all areas of your organization can be challenging and will take time. Ideally, you will create a team responsible for doing this. Note that you may need to create more than one safety team depending on the scope and size of your organization. For instance, you might need a warehouse safety team as well as an office safety team.
Your safety teams should understand OSHA requirements for their areas under their observation and should make it a priority to actively identify current safety hazards, additionally, create plans to alleviate or eliminate those issues, and proactively guard against future problems. All safety and health-related items should be referenced with the appropriate OSHA regulation/standard, such as labeling of hazardous substances, signage for high-risk areas, and the like.
Your safety teams should also report to a safety committee. This committee should be made up of employees from across the organization, further, it should include rank and file workers, as well as managers. At a minimum, one C suite member should also be part of the committee.
Provide Training
Along with forming safety teams and committees, employers must also provide OSHA-compliant training to all employees regarding health and safety information. This should run the gamut from proper lifting techniques to avoid injuring the back to how to store potentially dangerous chemicals and everything in between.
Note that organizations do not necessarily need to provide OSHA-compliant training in all areas to all employees. Therefore, it is more about ensuring that they receive training pertinent to the risks and threats they will face within the workplace based on their exposure level, role within the business, and also, other specific factors.
Training can be accomplished in many ways. OSHA offers supplemental information in the form of booklets and brochures, but there are other choices. One is to use your learning management system (LMS) to deliver online training. This can take the form of text-based lessons, videos, and even gamified content. With a modern LMS, that training can even be delivered to employees' mobile devices, thus allowing them to train at work, while traveling, and even at home.
Avoid the High Cost of Noncompliance
As you can see, the cost of failing to comply with OSHA regulations can be incredibly high. Therefore, it can lead to bankruptcy and business failure. However, with an understanding of the risks here and a willingness to create a culture where safety and health are priorities, it is possible not only to avoid those penalties but to create a thriving business with a sterling reputation and establish yourself as an industry leader.