Level 4 Evaluation for eLearning: Results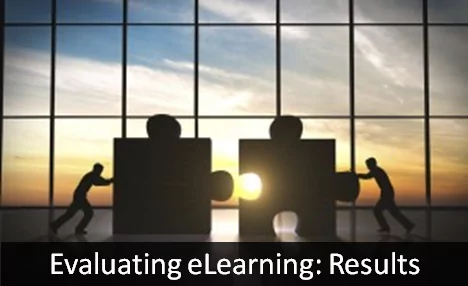 The previous article in this series was about Level 3 of the Kirkpatrick Four-Levels Model, tracking the desired changes in behavior. In this final article, it's time to see how the previous three levels of evaluation feed into Level 4, which is about business results.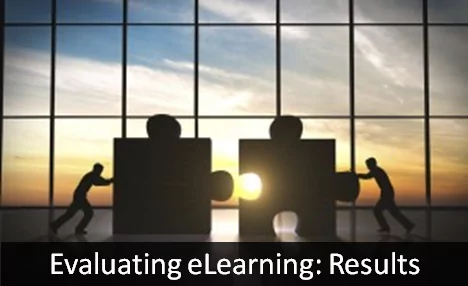 It's important to realize that progressing through the levels of the Kirkpatrick model do represent a progression in difficulty and complexity of getting the metrics right. That probably came through loud and clear in the previous article (Level 3 Evaluation for eLearning: Behavior) and is even more so when you get to level 4.
Download the free white paper How E-Learning Drives Productivity in the Global Business
Keep in mind however, what's at stake here. If you get Level 4 evaluation right, then you can proudly say that your eLearning efforts make a real bottom-line difference to the organization. That's pretty much the Holy Grail of eLearning, so it's worth the time and effort to figure out your Level 4 evaluation.
There's a significant step that warrants mention here that is the key to success in Level 4 evaluation, and that is aligning eLearning goals with business goals. That alignment process itself takes a number of steps, but if you take the time on the front-end to align eLearning and organizational goals, a Level 4 evaluation will be substantially easier to complete.
In a sense, then, when you first start to deal with eLearning content, you have to start at the end, which is here with Level 4. You have to know ahead of time what success looks like. You have to know what business impacts you want to achieve in order to evaluate the role that the eLearning plays in making it happen.
This means you can then work backwards to design the metrics that will be tracked in terms of behavior changes in Level 3 that will naturally feed into the Level 4 evaluation of results. You can then also continue to work backwards through Level 2 and Level 1 to come up with your learning assessments and what you think will be needed in terms of audience reaction to pull off the most effective eLearning course or module possible.
Below are the steps you need to take to make sure you eLearning goals are aligned with business goals. You can read a fuller description of this alignment process here.
Step 1: Clearly Define Performance Goals. The starting point is the business problem and related goal that needs to be addressed. This is where the SMART framework needs to employ in order to make sure that those goals are Specific, Measurable, Achievable, Relevant, and Timely.
Step 2: Identify the Tasks that Achieve the Goal. What the exact tasks are that will get you to the goal. Once again, take the SMART approach to outlining these tasks.
Step 3: Determine Learning Needs. What's standing in the way of your people reaching the desired level of performance? Take the time to figure out what's needed.
Step 4: Prioritize the Learning Needs. There may be any number of reasons for a performance gap, so you need to prioritize them from high to low in order to know where to place your greatest efforts and eLearning resources.
Step 5: Develop Learning Content and Delivery Method. Here is where you begin shaping how to fill performance gaps with instructional eLearning content. Have some data to back up why you're going with the plan you're proposing to achieve upper-level buy-in.
Step 6: Implementation and Results Tracking. This sixth and final step is where you roll out the eLearning course or module, allow a sufficient amount of time to pass, and then engage in your Level 4 evaluation.
I hope you have found the six articles about leveraging Kirkpatrick's Four-Levels Model for eLearning evaluation helpful in how you can go about designing eLearning that succeeds in all four levels. Please feel free to use the comments area below to share your own experiences in eLearning evaluation.