How to Write a Policy
Policy writing made easy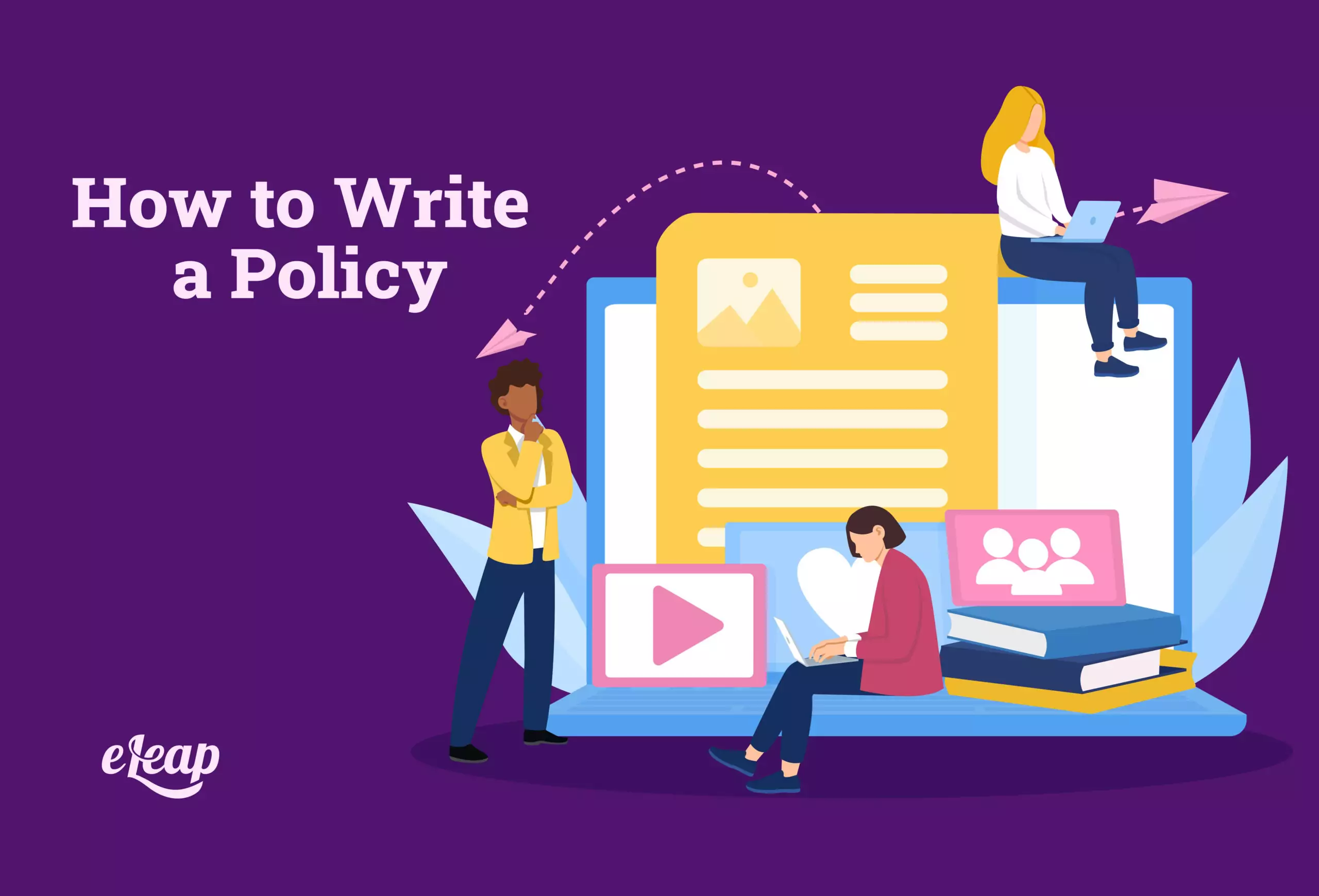 Every office or workplace manager wants to have a successful, profitable team that works well together, solves problems, and is empowered to make their own decisions so that the manager can dedicate energy to overarching company needs.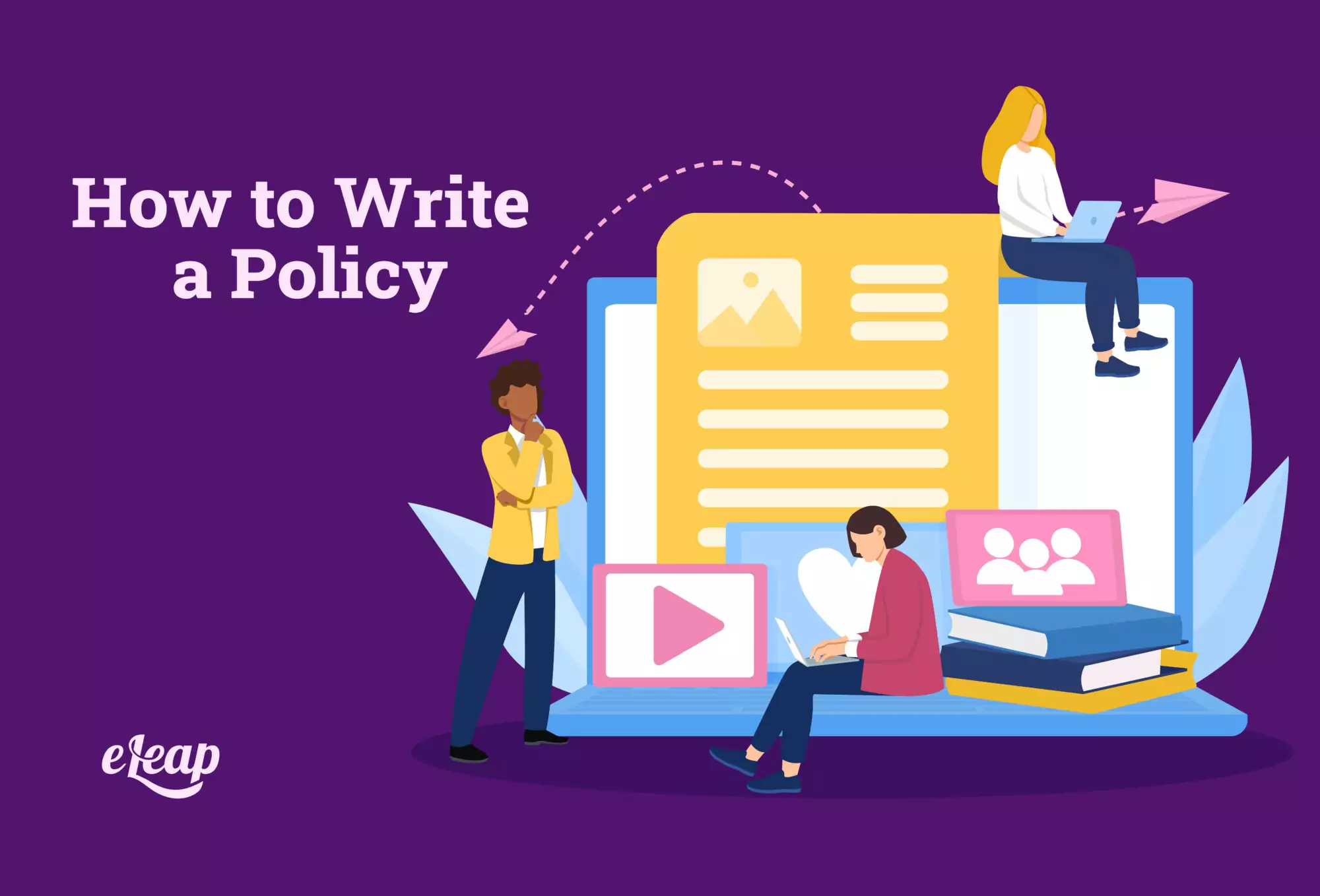 However, there are so many inner workings of an office, whatever the product might be, and when there are also many employees, one of the best ways to make sure everything is happening the way it is supposed to is to write policies.
Writing a policy can be effective for anything from office routines, structures, or communication chains to the way products are made, quality checked, or packaged.
Policies can be written for what to do for an incident or complaint or how to recognize someone on a smaller team for a job well done.
Essentially, everything that should be done a "certain way" in a workplace can have a policy behind it. This ensures successful, efficient procedures and happy employees who feel that communication is solid and clear.
Many managers might read this, however, and think, "I don't know how to write a policy! Where do I even begin?"
If you need to know how to write a policy, you've come to the right place.
The following will detail how your company will benefit from writing policies, how to get started with your ideas, how to write a policy effectively, and finally, how to implement it.
The Importance of Writing Effective Policy
A policy is an outline for what takes place inside a company.
All policies should have the company's mission and/or vision statement in mind when they are being written.
A small aside: remember that a policy and a procedure are two different things.
A policy states what the management expects from its workers, and a procedure states how the policy should be carried out.
Policies tell 'what' should be done; procedures tell 'how' things should be done.
Since an effective workplace will have many required tasks from many different teams or employees, having one place where all of this information can be found is a smart idea.
When a company has a policy manual (a compilation of all the policies), it allows any person to look up what they need easily and quickly. Employees can even be given this upon hire so they can educate themselves before beginning work.
The task of managing a workplace becomes much simpler when a policy manual is used. Stress is reduced, and conflict is lessened because everyone has clear expectations and has a reference to go back to when there is a question.
However, when working with a group of human beings, nothing is perfect. Thus, a policy manual helps to ensure that decisions are made, and conflict resolution is handled in a fair manner that gives respect to all parties. (There should even be a policy for conflict resolution itself!)
Creating a workplace culture built around fairness, respect, and efficiency is one of the best ways to create loyal employees who will want to stick around and give the company the best of their working years.
In the long run, this saves a company a great deal of time, stress, and—arguably most importantly to many businesses—money, as there will be less employee turnover and training that needs to be done.
This last part is not one that any manager wants to have to think about, but it is one that often comes up when a leader is unprepared. A policy manual is a way to have documentation on hand in case a legal matter is ever brought against the company or one of its employees.
The manager or workplace leads can show legal representatives the company policies and how they are carried out day-to-day, protecting customers and laborers.
Potential Cons to Policy Writing
As with any benefit, there is always a flip side. Policy writing is not all positive, and knowing potential roadblocks can help prepare a manager for all possible situations.
Having a policy manual that details all the inner workings of an office or workplace could feel stifling to some employees and hinder creative thinking.
Make sure that in your policies, there is figurative "space" available for people to think critically, problem solve at their necessity and will, and bring new ideas to the table that could positively change the way the company runs.
No matter how clear the writing is, there is always someone who will find "wiggle room" or interpret things in a way that benefits them. This is sometimes unavoidable, so just be sure to write policies in as clear and succinct a way as possible.
You could always ask another manager colleague to read over your policies and try to find places that might be confusing or leave room for interpretation, and then you could offer to do the same for them.
Policy manuals need continuous updating. As procedures are improved, as the needs of a company change, and as dynamics evolve, policies will need to keep up. Keeping your policy manual in an easily accessible electronic form will allow for quick changes that everyone has constant access to.
A paper copy can be kept in the employee breakroom or in human resources, and small colored tabs could be added if there are changes made until a new paper copy is printed every year or so.
Things to Remember Before You Write a Policy
An effective policy will have the following qualities:
Simple and succinct language
Clearly defined procedures that are easy to follow
Fair and honest rules that take all employees into account
Room for creativity and individual needs
As the manager or policy writer, you will be responsible for a few key things that are important to remember. These are as follows:
The writer/originator is responsible for reviewing and updating policies as needed.
You are in charge of determining who the specific policies affect and making sure that their needs and feelings are represented accurately.
Delegation to other authority figures lies with you.
Employees need training on policies, and it is up to the writer to make sure that this happens.
You are the one who needs to ensure that a policy is in line with the company's mission, vision, culture, and values.
How to Write a Policy
Finally, how to actually get this done! Let's start with some important do's (instead of don'ts).
DO use a standard format.
DO choose a writer who is familiar with the company.
DO include your employees in the policy development.
DO remember to review policies often.
First, make sure that everyone is on the same page with the policy that needs to be developed. Employees with buy-in will work for change much more effectively. Then assemble your writing team. These people should be experts on the topic at hand.
Next, it will probably be helpful if you download software to help make the process easy and efficient. This will also help ensure you have a standardized format that makes all your policies easy to read.
Make a list that puts policies in order of priority, then do your research so that you have all the information at hand which will affect the decision-making process.
Use your team to read over the work a few times, looking for errors and gaps. Then, get approval from the topmost advisor who is in charge of the company at the appropriate level.
Policy Specifics
The following list will give you an idea of the specific things to remember as you learn how to write a policy.
Use fonts that are professional
Keep your font size consistent
Limit the use of color
Use spacing appropriately
Keep white space for readability
Create a Table of Contents for ease of use
Add labels if printing in a large paper binder
Use an outline that will make it easy to add new policies in the future
The writing style is also important. Write in professional language that will not be easily outdated. Use language that is clear and firm without being dictatorial. Remember the difference between authoritarian and authoritative.
Authoritarian means having full control and requires strict obedience. (This style of leadership breeds discontent.)
Authoritative means leading by example with respect and grace, albeit with boundaries and firmness. (This style creates a safe space with room for individuality.)
Your policy manual and specific policy documents should also contain the following:
Header(s)
Dates (original dates of writing and all review dates)
Titles
Approval notations
Policy statements (this should be the '5 Whys': who, what, when, where, why)
Policy scope
Procedures related to policies and their referencing numbers
Responsible teams, roles, and responsibilities
Directives or specific instructions
Section and page numbers
Definitions of key terms related to the business
References to/citations from other important documents
Policy Implementation
After you have effectively written your policy, you will need to distribute it to your team members. Train them on anything that is new, or that might need practice. Review your policy manual often as needs and dynamics evolve.