Content Chunking: Tips to Accelerate Learner Success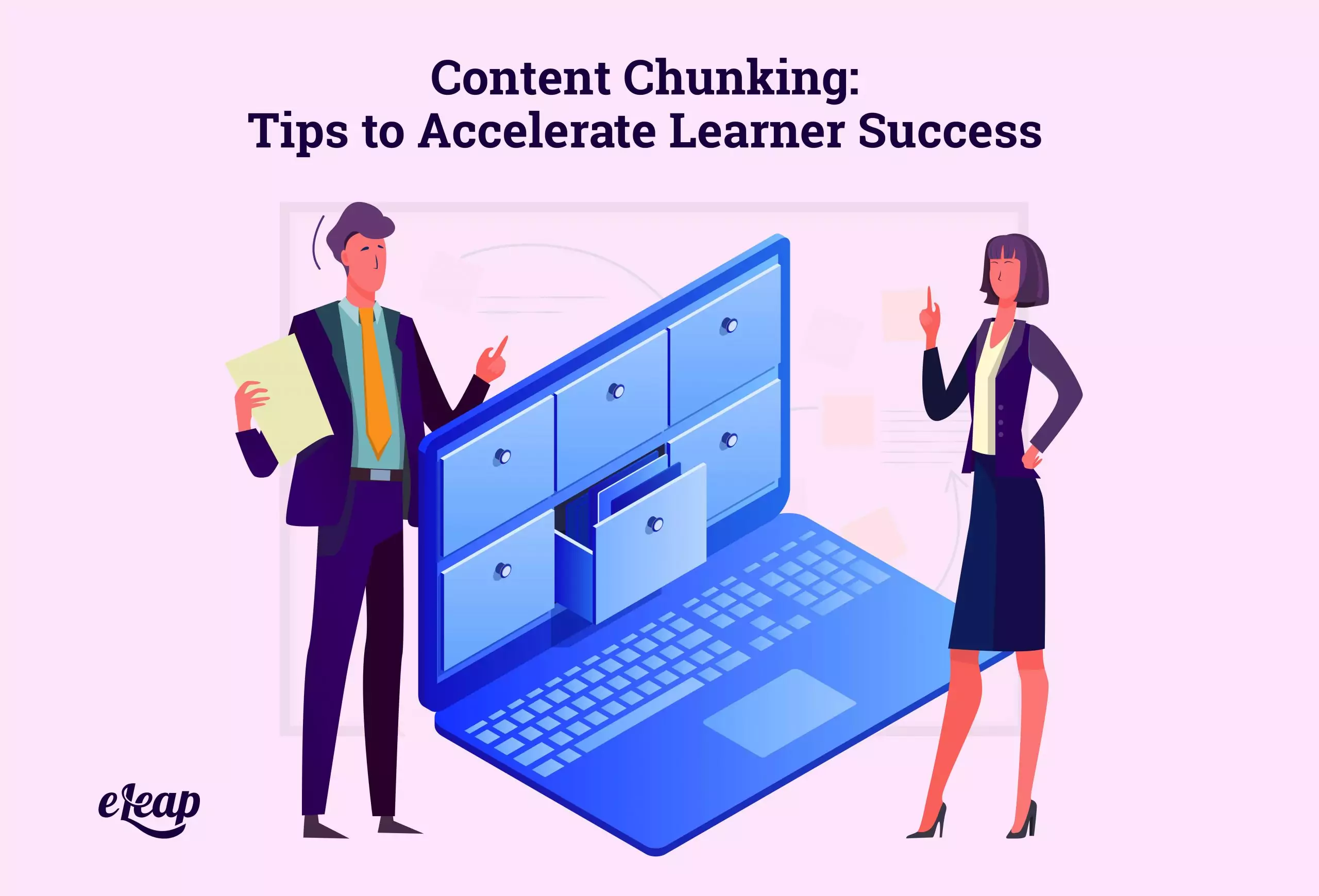 When you think about learner success, what comes to mind first? Chances are good it's something like completion rate, information retention, or the ability to apply lessons learned during training to an employee's regular duties. All of those are correct. However, the challenge lies in achieving those optimum outcomes.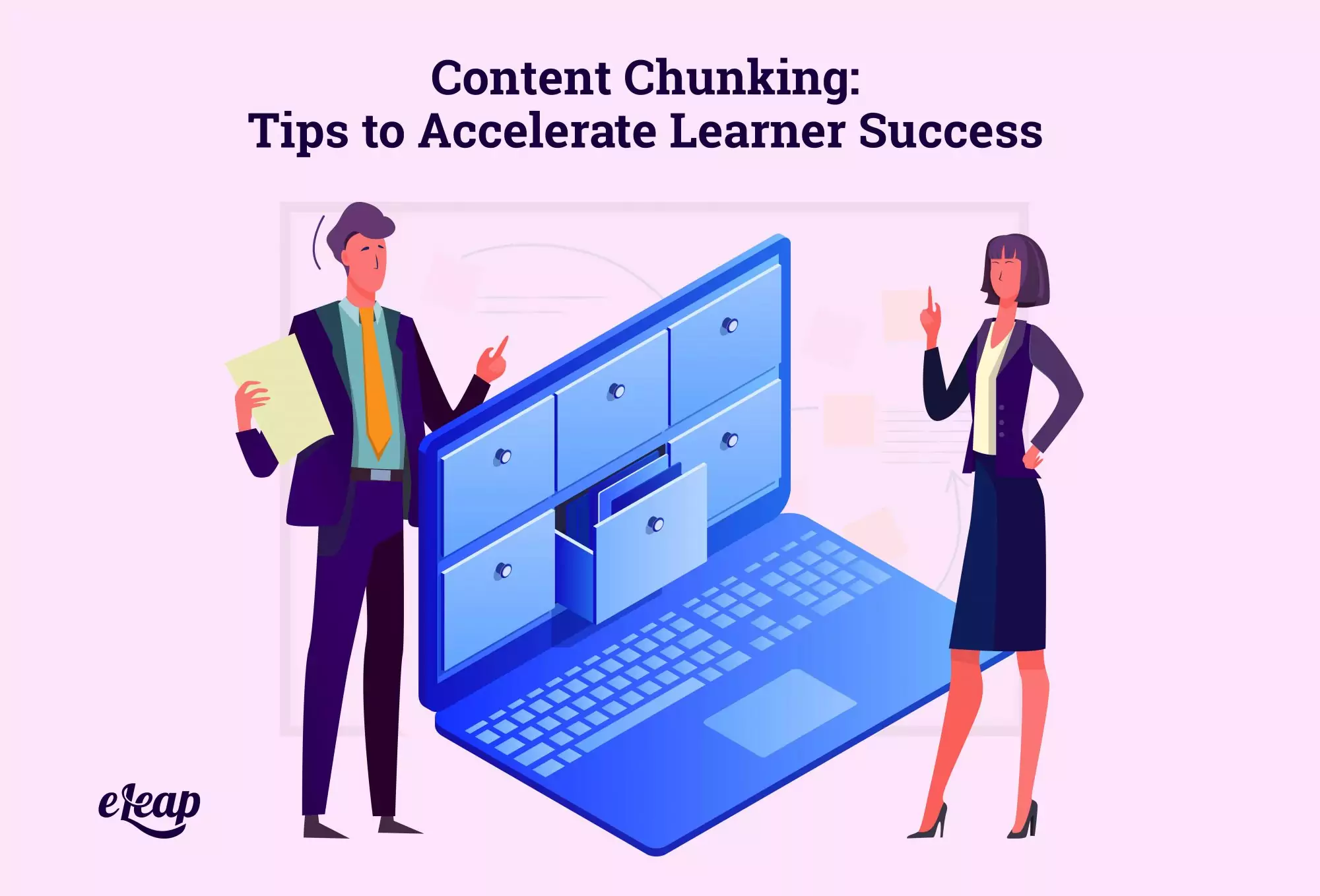 Many L&D initiatives struggle when it comes to ensuring learner success. By the time a learner completes a course, they've forgotten most of what they learned in the beginning and, as such, can only apply a fraction of the information. There is a solution to this challenge, though.
Content chunking is a simple, effective, proven process that helps you create engaging, well-designed courses and accelerate learner success. It boosts information retention, increases the ability to apply lessons learned to real-world challenges or situations, and even increases learner completion rates.
What is content chunking, how does it work, and how can you use it to your benefit and that of your learners? We will explore what you should know within this post.
What Is Content Chunking?
Content chunking might sound a little unfamiliar, but the process is not. It's nothing more than breaking larger content pieces into smaller fragments. You might be more familiar with it under different names, such as bite-sized learning.
The process is pretty simple – you take a huge, unwieldy course and break it down into digestible pieces (or chunks). Without chunking, content can be difficult for learners to master, and may even be overwhelming. With chunking, they are avoid being overwhelmed, and, instead, can master small pieces of the puzzle over time.
Chunking is nothing more than the process of taking something large and breaking it into smaller, more digestible pieces. It's similar to taking a large project and breaking it down into smaller tasks and steps that eventually culminate in the successful completion of the project.
 How Does Content Chunking Work?
The point of content chunking within the eLearning content is to make things easier to understand what they are being presented. It's about improving comprehension and retention, as well as ensuring improved recall and applicability. How does that happen, though?
The first step is to chunk content into levels. That is, you would take a larger course and break it down into modules. Each of those modules should be self-contained, with those that come after building on what came before in a logical manner (you must learn to stand, and then to walk before you can run, after all). However, each of those modules would be broken down into smaller sections. Overall, it would look something like this:
You get the point. Content chunking is nothing more than the art of organizing information so that it flows logically, with defined starting and ending points that help bookend the learner experience. Suppose you were to simply set a learner down at the beginning of a course, with no defined sections, no individual modules, no specific chapters, and no logical flow. How well would they really master or retain the information being presented?
How to Chunk Your Content
Before we dive too deep into this topic, we should clarify something. There is no one way to chunk content. In fact, there are as many ways as there are L&D initiatives. Because of that diversity, you must follow a few specific tips and tricks rather than adhering to dogmatic processes. It's about ensuring flexibility while simultaneously accomplishing goals and supporting your learners.
Tip 1: Prioritize the Right Information
No matter what your learning module or course might cover, there are two types of information within it: necessary information and "nice to have" information. Prioritize the required information, and add in the rest as you can, using supplemental methods. For instance, cover the required information in the text of the module, but then provide hyperlinks to other sources, such as articles, journal entries, studies, and other authoritative sources.
Tip 2: Less Is More When It Comes to Designing for Memory
We all like to think that our memories are pretty robust. However, the truth is that most of us have pretty limited working memories, particularly when learning something new and trying to retain large amounts of data. A microlearning approach to content chunking ensures that you're able to take that less-is-more approach and maximize information retention and understanding. Yes, it might mean breaking a single lesson down into three different modules, but if it increases retention and applicability, then it's well worth the time and effort.
Tip 3: Wireframe before Designing
Yes, you are under pressure to get the content design started. However, you need to know where you're going before you can do that. Take a cue from the web and app design industry and start with a wireframe. Basically, this helps you lay out what will be on each screen and plan the progression through the information to be covered before you do any design work. It's all about ensuring accuracy, logical flow, and better chunking of the content.
Tip 4: List and Bullets Work Wonders
Humans automatically learn better when information is organized within a logical structure. The way to do that within your content is to use lists and bullets. They help you break things down into smaller pieces but also highlight the most important information for learners so they aren't trying to memorize entire paragraphs. Plus, lists and bullets break up that "wall of text" effect that numbs the brain and leads to learner disengagement.
Content Chunking Is King
In the end, the only measure of success for an L&D department is the success of its learners. And, make no mistake, content chunking is king when it comes to creating digestible, memorable courses that result in improved retention and a better ability to apply lessons learned in the real world.