21 CFR Part 11 Policy
Tips for Creating a Compliant Policy for Your Life Sciences Organization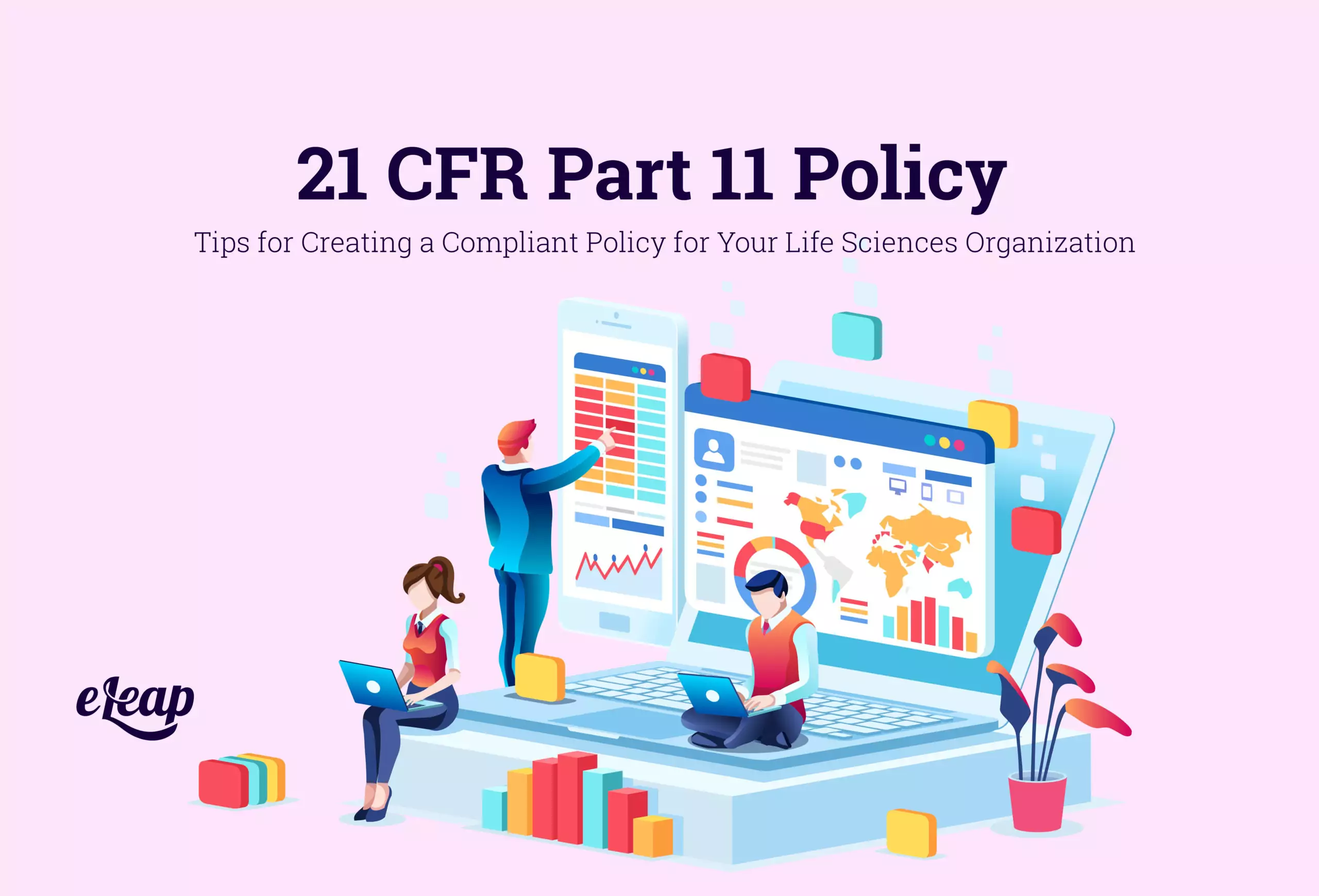 Compliance training is the Achilles heel for several organizations. Regulatory compliance topics like the FDA Title 21 CFR Part 11 policy are complex and provide more of a generalized guideline than a list of hard-and-fast rules, which can make training somewhat difficult in this particular arena. Every company is required to develop their own SOPs (Standard Operating Procedures) as a part of business development. Some companies may have multiple SOPs, and life sciences organizations will need to ensure that they have a dedicated SOP for CFR Part 11 compliance.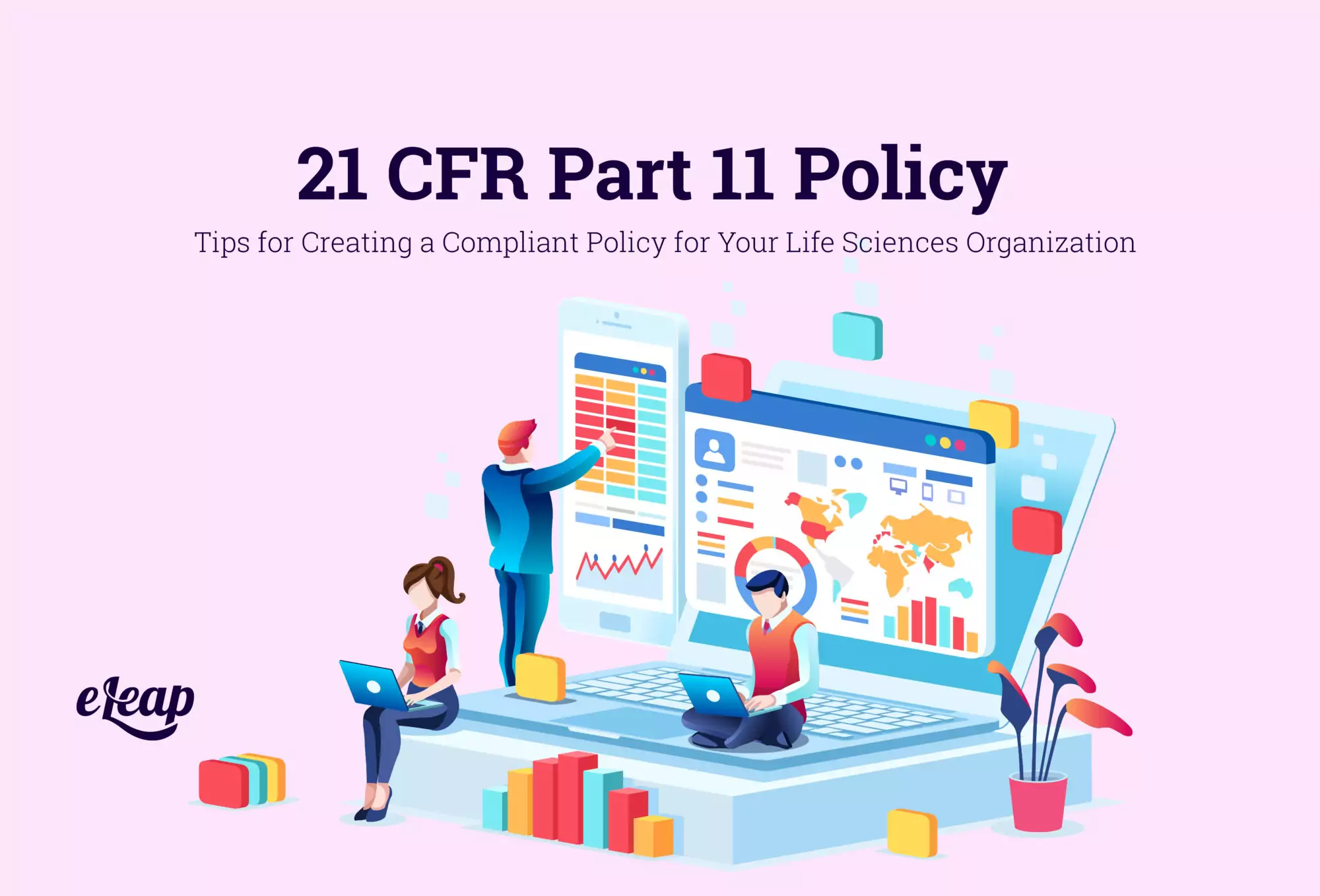 What SOPs Should Include
In order to keep life sciences organizations compliant, it will be important for companies to develop SOPs that include the necessary requirements and guidelines for electronic records and electronic signature compliance.
SOPs should include guidelines for things like:
System features
Infrastructure qualification and validation
Security standards
Data transfer standards
Audit trails
Electronic approval standards
SaaS/cloud hosting guidelines
Software development
In the security standards, usernames, passwords, and user access should be covered in detail, including login credentials that would require at least two or more people to falsify. This is not a full list of compliance regulations or guidelines, but will provide a good start for fleshing out an SOP for any life sciences organization.
What Electronic Systems are Included in Compliance?
According to the provisions of Part 11, any organization in the life sciences, biotech, or related industries that is using electronic (computerized) systems will be required to ensure that all of the systems that they use for storing and sharing information are compliant with this code.
This includes:
Clinical research software
QMS software
Learning management systems (LMS)
Drug discovery software
Pharmaceutical and biotech software
Administrative software and databases
Any other electronic system with restricted access, secure data, or other details required to be compliant under CFR Part 11.
Organizations within the regulated industries of life sciences and biotech essentially need to guarantee that any and all software or electronic systems they use are compliant with CFR Part 11 and all of its policies.
It's Not Automatic
CFR Part 11 compliance is automatic or guaranteed. You can't guarantee that software is compliant just because it is published—there is plenty of software that life sciences companies use every single day that doesn't necessarily list this compliance outright and unless you've seen proof that they have it, you shouldn't trust that it exists.
So, what can you do?
Teach your team (and yourself) how to ask. When engaging with software brands, hardware companies, or anyone else that may be involved in your electronic records systems, ask them what is compliant and what isn't. Ask if programs like Excel and PowerPoint have been modified to be made compliant or if they are simply standard applications, for example. Find out what tools your team needs and make sure that you can offer compliant solutions by working with providers that offer compliant solutions.
The Value of Your LMS in CFR Compliance
The Learning Management System used by these organizations was listed on the applicable systems that must comply with Title 21 CFR Part 11 policy guidelines. However, more than just being a compliant system because it stores employee records, it can be a training tool that can help teams learn about proper compliance standards and policies.
Having a compliant LMS allows you to teach while also teaching by example. You can implement training presentations, tests, and other educational resources to help teach employees about CFR Part 11 policy compliance. When that is combined with a compliant LMS, organizations will be able to show as much as they tell about compliance in attempting to get their own teams on board.
A compliant LMS is one that has secure records with limited user access, proper signatures that include date and timestamps, as well as reasons for access and other details. It will offer ease of use and help organizations create a robust training strategy that covers everything related to CFR compliance, electronic records, and more, with real-time examples incorporated into the LMS that is being used to train the team.
Security Upgrades and Authorized Access
While teaching about Title 21 is effective enough on its own, showing people the difference between compliance and noncompliance with real world examples will always make the biggest difference.
Teach your team about things like two-factor authentication, biometrics, and other security measures that are used for sensitive information and medical sciences industries today. Help them understand the value of password security and keeping systems secure so that they can help you keep your business safe.
Consider any security upgrades and authorization restrictions that you can put into place to add further security and compliance for your electronic records and signatures. Upgrade from basic passwords to biometrics, or even just to two-factor authentication. Set up user access based on the level of clearance or position within the company, and ensure tracking is in place so that a record of who is in which system, and what they have done there, is available at all times.
Training Can Make the Difference
Often, compliance violations are met with responses of "I didn't know" or "I thought it was automatic", and so forth. If people aren't familiar with the best practices and how to follow Title 21 CFR Part 11 policy guidelines, how are they supposed to do so in their own work?
You should have a robust training plan in place that addresses every aspect of your business operations, of course, and that comes with having a solid Learning Management System that is CFR Part 11-compliant and that is designed with safety and security in mind. Plus, the system should make it easy to customize your training modules and update things as necessary over time and may even suggest training topics like Title 21 and other compliance training that your employees need based on their line of work.
To learn more about eLeaP, a modern LMS that is fully compliant with Title 21 CFR Part 11 policy, contact us today. We can help you set up the training that your team needs for everything from compliance to job training, and more.