Tools for Collaborative eLearning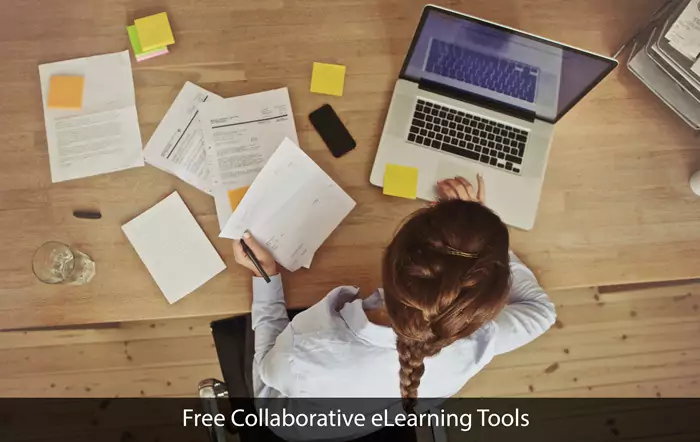 A few articles back I wrote about The Government's Take on eLearning Effectiveness, and one aspect that clearly boosted eLearning's effectiveness was collaboration. In this article I want to highlight a sampling of the many tools that you can use to inject plenty of collaboration into your eLearning programs.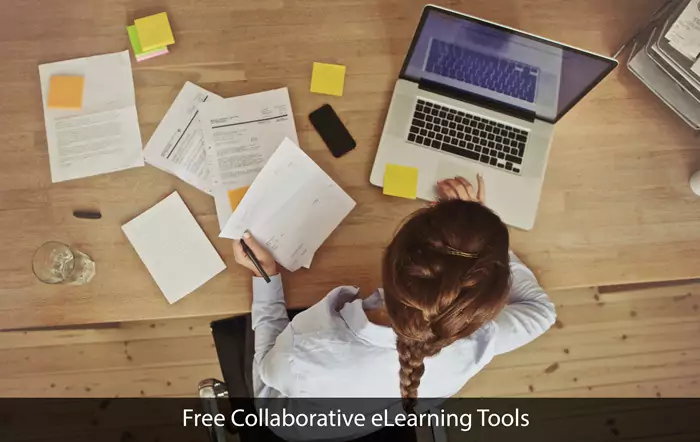 Free Collaborative eLearning Tools
Of course all the tools with free options also have enhanced premium paid versions as well, but the focus here is on the
Google Drive. Google's online document filing system is more than a cloud-based storage and backup option. Files can easily be shared with other users, but more than that it also allows for collaborative editing of documents through the Google Docs feature of Google Drive. Of course you have to have a Google account to make all of this work, but that's very easy to accomplish. Collaborative editing can take place by using the "Comment" feature to insert comments on the document or by initiating Google's chat feature with participants. And all of this can happen from anywhere at any time on just about any device.
Thinkbinder. This online binder is for collaborators to share a whiteboard for real-time collaboration, files, calendar updates and status updates. This is a great platform for generating group project work.
Podio. This website provides a social-media-esque platform to collaborators. It's a cloud-based platform for organizing group communication, business processes, data, and content in project management workspaces. Users may select apps from an online store or build their own according to project needs. There's also a student version if that makes the most sense for your style of eLearning. There are more features in here than you can shake a stick out, so it's worth taking their tour to see if its something that will work well for your eLearning efforts.
Show Document. This online platform offers all kinds of collaboration tools for free. Options include sharing a wide range of document types; co-editing documents; voice, video, and text chats; sharing online whiteboards for brainstorming; chat translators to overcome language barriers; collaborative web-page designing; screen sharing; and Google maps and YouTube video sharing.
TitanPad. This is the simplest collaborative document creation/editing platform you'll find anywhere. It takes all of a few seconds to get rolling. Collaborators can each have their own color (up to eight), writing/editing take place in true real-time, and there is infinite "undo" when needed.
Paid Collaborative eLearning Tools
ProofHub. This is all-in-one collaborative project management software, geared especially for the workplace. Collaborators can take advantage of apps for discussions, notes, to-do's, Gantt charts, and calendaring.
BigMarker. This one is a web conferencing tool to facilitate communication among collaborators. Its webinar features allow for real-time discussions and presentations, and records them as well for participants who can't attend.
MindMeister. If you're a fan of mind-maps (and you should be), then MindMeister is for you. It allows multiple collaborators to engage in brainstorming on a single mind-map. Users can go on to engage their full collaborative project work together with chat features, templates, SWOT analyses, and overall project managing.
Skype. Skype is a great choice for eLearning collaboration because so many people already use it and know how it works. Group meetings area easy to conduct on Skype either as voice, video, or text chats.
SlideRocket. When it comes to groups making great presentations, SlideRocket is the ticket. Users can create presentations collaboratively, and the file generates a unique URL that can be used to show the work off to anyone. The presentation can also easily be embedded in a blog or other website. You can even pull in data in real-time from Google Spreadsheets, Twitter feeds, and other sources.
The above listing really represents only the tip of the iceberg when it comes to tools that facilitate online collaboration in your eLearning efforts. Which tools have you found to be most effective for eLearning collaboration?