Linking Training to Business Results: Key Tips and Tricks to Boost Success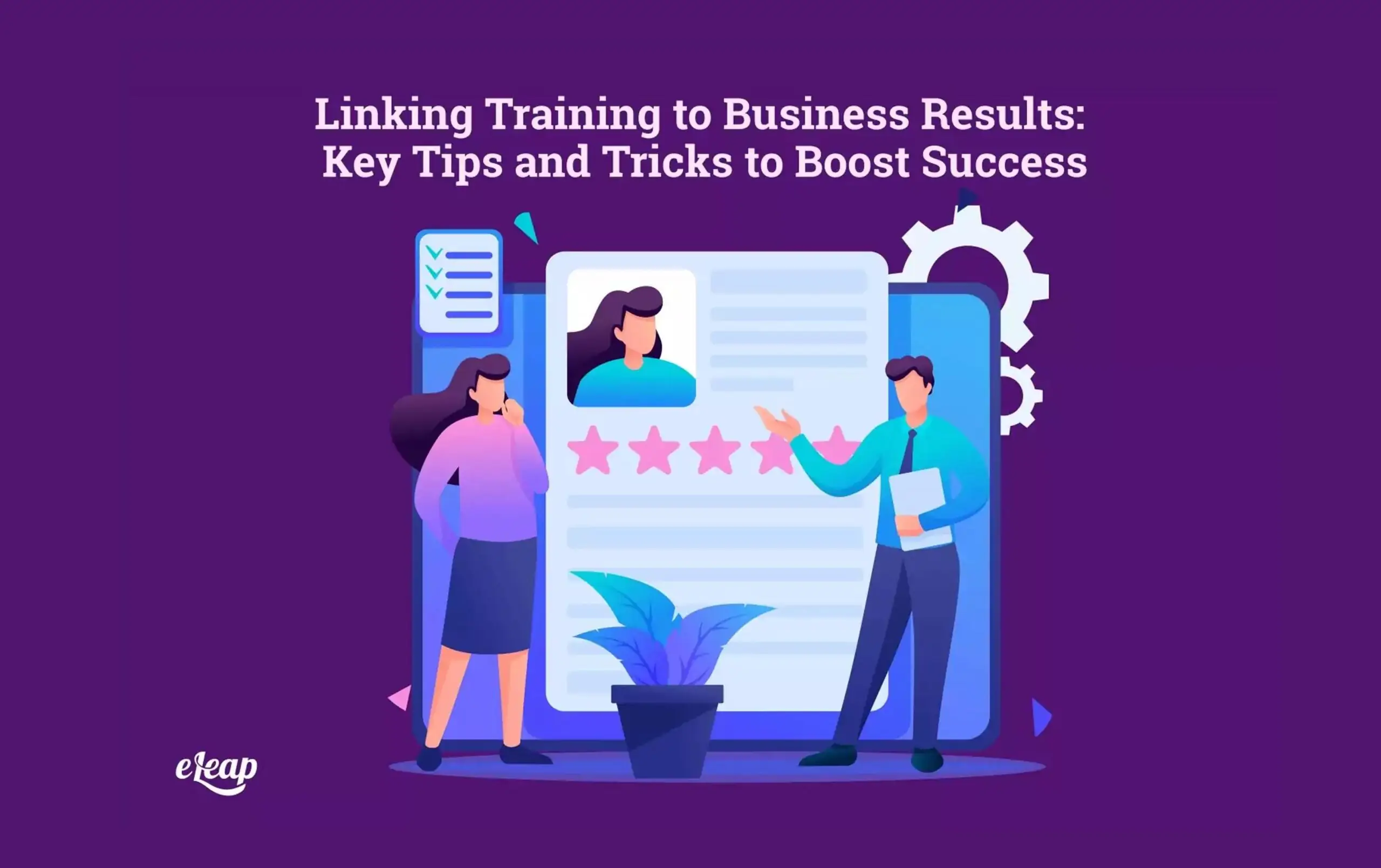 Learning and development (L&D) is a critical consideration for all organizations, regardless of size or industry. Without a robust L&D initiative, it is impossible to close skills gaps and compete against other businesses. Still, it is easy to lose sight of the bigger picture of linking training to business results amidst all the talk of reporting and content creation.
What is that bigger picture? Simply this: your training must drive learners forward in line with key objectives that speak to business needs. In other words, your training needs to link to results the business needs to see.
The Problem with Isolation in Learning
Part of the skewed line of thinking when it comes to corporate L&D is how our modern education system is structured. As children, we progress from kindergarten through elementary school, into middle school, and then into high school, often with no real understanding of why we're learning what we're learning. There is only the vaguest notion of how what we're being taught ties in with goals we'll want to achieve later in life. That can create a disconnect – after all, it's difficult to get on board with something if you cannot see the point of it.
Corporate L&D shares that commonality (largely because it's created by humans who are themselves products of the modern educational system). The good news is that it's simple to break the pattern once you realize it's there. How can you do that?
Link your training to the terminal objective necessary to achieve business results.
Without taking that step, your L&D efforts will only yield moderate results, and there will be a disconnect between learners and the initiative. There will also be a disconnect between L&D admins and other managers within the organization. Eliminating the disconnect helps to get everyone on the same page.
Forging the Link
So, how do you link your training to business results? It's not that hard once you realize the need. The flow below helps illustrate what you'll need to do.
Determine the desired results → Determine the desired performance to achieve those results → Determine and set objectives for performance → Design and develop relevant L&D content
Based on that flow, we can extrapolate quite a bit of what should be included in your design and development phase, including the following:
Learning Objectives – Learning objectives must be based on the desired performance. They must also be set with the conditions of that performance in mind and with clearly-stated criteria to help measure performance. In other words, you need to decide what you want to achieve with your training.
What performance do you want to instill or improve? Once you have that, decide what conditions will apply to employee performance – for instance, will employees need to showcase this performance while dealing with multiple customers at the same time? Next, decide what you need to see that indicates an employee has mastered the training.
Content Scope – With learning objectives set, it becomes easier to understand the scope of your content creation efforts. How much content will you need to teach learners the skills necessary to achieve your stated objectives? Can you trim down the content delivered by subject matter experts (SMEs) so that you're only including the most relevant content that ties directly to learning objectives and business goals? With clear-cut learning objectives based on actual business results, it becomes easier to trim the fat, resulting in leaner, more focused modules and courses that deliver the skills necessary in less time.
Content Delivery – Also called "instructional method", this is nothing more than how you deliver the content to your learners. Note that your delivery method can and should vary, but that variance should be based on specifics, such as the objective you're attempting to achieve. Different objectives will require different content delivery methods.
Measure Success – It is not enough to set objectives aligned with business goals. You must measure your learners' success. Mostly, that is done with an end-of-module test or quiz. However, you need to ensure that you're framing the questions correctly.
Does your phrasing tie in with the business goals you're focusing on? Each objective taught should have at least one relevant question. Otherwise, your testing is broken due to a lack of relevance and continuity. Your learners should be able to read the questions and immediately see the connection with the objectives set at the beginning of the module or course.
Involving Other Stakeholders
One key step for L&D admins is connecting with other stakeholders and making them part of the process. While that doesn't mean you need to hijack the director of marketing and have them start authoring content, it does mean that everyone needs a seat at the table. Several reasons exist for this, including:
When you loop in all stakeholders, it becomes easier to understand business objectives and align learning with those results.
Connecting with other stakeholders helps them understand the process that learners will need to go through.
Looping in other stakeholders helps to break the isolation ring that so often surrounds learning and development.
Getting input from all stakeholders can ensure more robust yet streamlined modules and courses that deliver value to learners while supporting business goals and objectives.
Rinse and Repeat
The method we've outlined above is not just for one-time use or for creating content specific to one department or skill development goal. It should be used across the board for most of your upskilling needs and can even play an important role in mandatory corporate training and professional CE in some instances. The key is to ensure that L&D has a seat at the executive table and that other department heads are looped into the conversation surrounding content development. It's a synergistic process that ultimately delivers improved outcomes for everyone, but that only works if you're able to break out of the isolation that can plague L&D.
What about you? How have you been able to peg learning outcomes to business results? Share your successes and challenges with us in the comments!