eLearning Career Guide#2: The Portfolio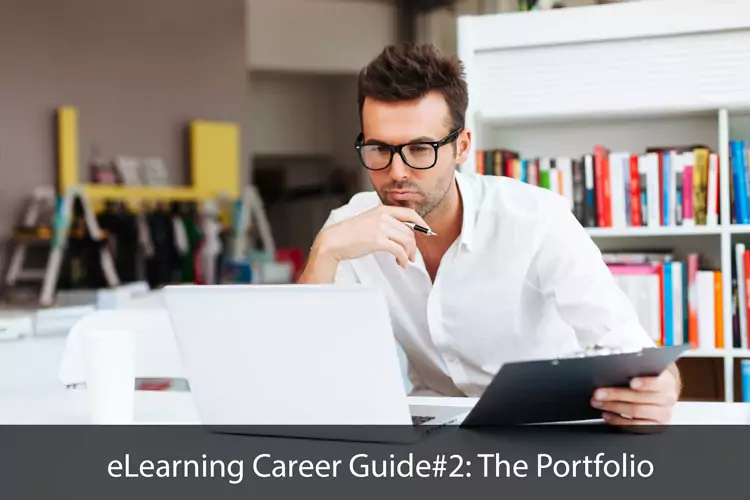 An essential step in launching or enhancing your career as an eLearning professional is to put together a stellar portfolio of your past work. This can and should take a significant amount of time and effort. You want the world to see what you've done, and you want to present it in as compelling a way as possible. That's what this article is all about.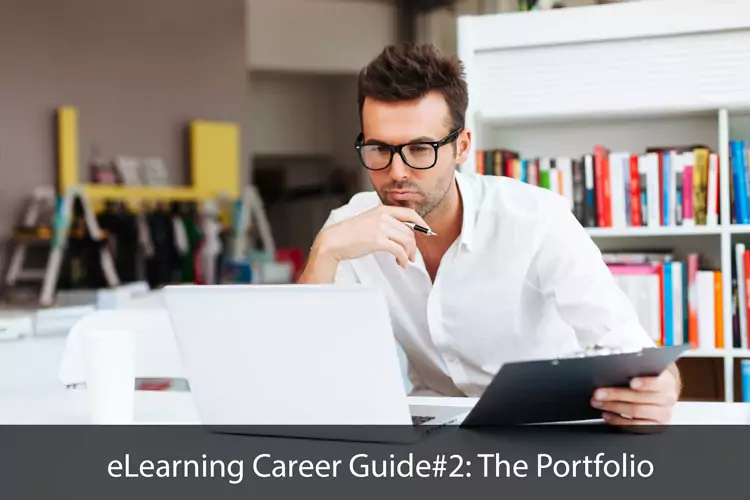 When it comes to a portfolio, many people wonder whether they should go with hard-copy or electronic. Don't fall into this either/or trap – what you want is to have both. I would focus first on the digital version because your materials are all digital to begin with. After nailing the electronic version, then you can put together a paper version, which is really nice to have when you walk into an interview for your dream eLearning job.
You want to present all the projects in your portfolio as if they were award-winning eLearning projects. This is your chance to toot your horn and build a personal brand for you style of eLearning work, so take full advantage of the opportunity.
If you come from an educational background, such as having been a school teacher, you already know a bit about making portfolios, because you probably had to do that as part of your teacher certification process. Likewise, coming from any kind of arts or design background also might mean you're familiar with portfolios. But whether you think you're an old pro or a complete newbie to eLearning portfolios, there's no substitute for taking a look at some stellar examples to get your own creative juices flowing. Below are three real examples that I critique:
Jackie Van Nice is a freelance eLearning designer with tons of great experience that she showcases well on her website. Let's start with just one project example, her Show Me The Way to Go Sell: Sales Mobility Software Training. Notice that the portfolio page for this project begins with a small table of contents at the top, explains the project's background, the features of the eLearning work with great screenshots, then an actual working demo of the piece, then an explanation of why it's so good, and wraps up with her specific role in the entire project. She's got five different project pages of client work, and they all follow that same basic approach, which means they're consistent across the portfolio, which I think is particularly appealing. My one point of criticism has to do with her overall portfolio presentation. If you back out to back out to her main portfolio page, you'll notice that the first 18 entries are all little pieces she put together as part of the Articulate E-Learning Heroes weekly challenges. I think those are great for showing versatility, I would rather see the 5 paid client work samples at the top, and then let these smaller challenge pieces follow them. Overall, however, this is a stellar example that is presented in a highly professional and compelling way.
Richard Watson is the President of Bridgehill Learning Solutions, LLC, and you can visit the Bridgehill portfolio page to take a peek at his work. In this case, I'm going to be very critical relative to the previous example. As you can see, this portfolio page is a collection of thumbnails that lead to demo/sample versions of each. While each one may or may not be stellar work, without any setting of the context, what the work was meant to do, and so on, it lacks both the professional snap and the care that Jackie put into guiding people through her portfolio projects to fully understand just how good they were.
Keith Freeman is an eLearning and multimedia materials designer, so his main portfolio page isn't exclusive to just eLearning. Drilling down into his eLearning portfolio page, what I like is the attention paid to making sure there are high-quality screenshots and graphics. He does provide a brief description of each project and then a link to view the demo. I think his descriptions should contain more information, and there's also a problem at the top of the page where the navigation links are really hard to read against the graphic montage behind them. I love the graphic montage, but he needs to figure out a better way to display the navigation bar.
I hope these few examples help you to get thinking about how to present your own portfolio online.
The next article on this topic is eLearning Career Guide #3: More Portfolio Tips and Examples